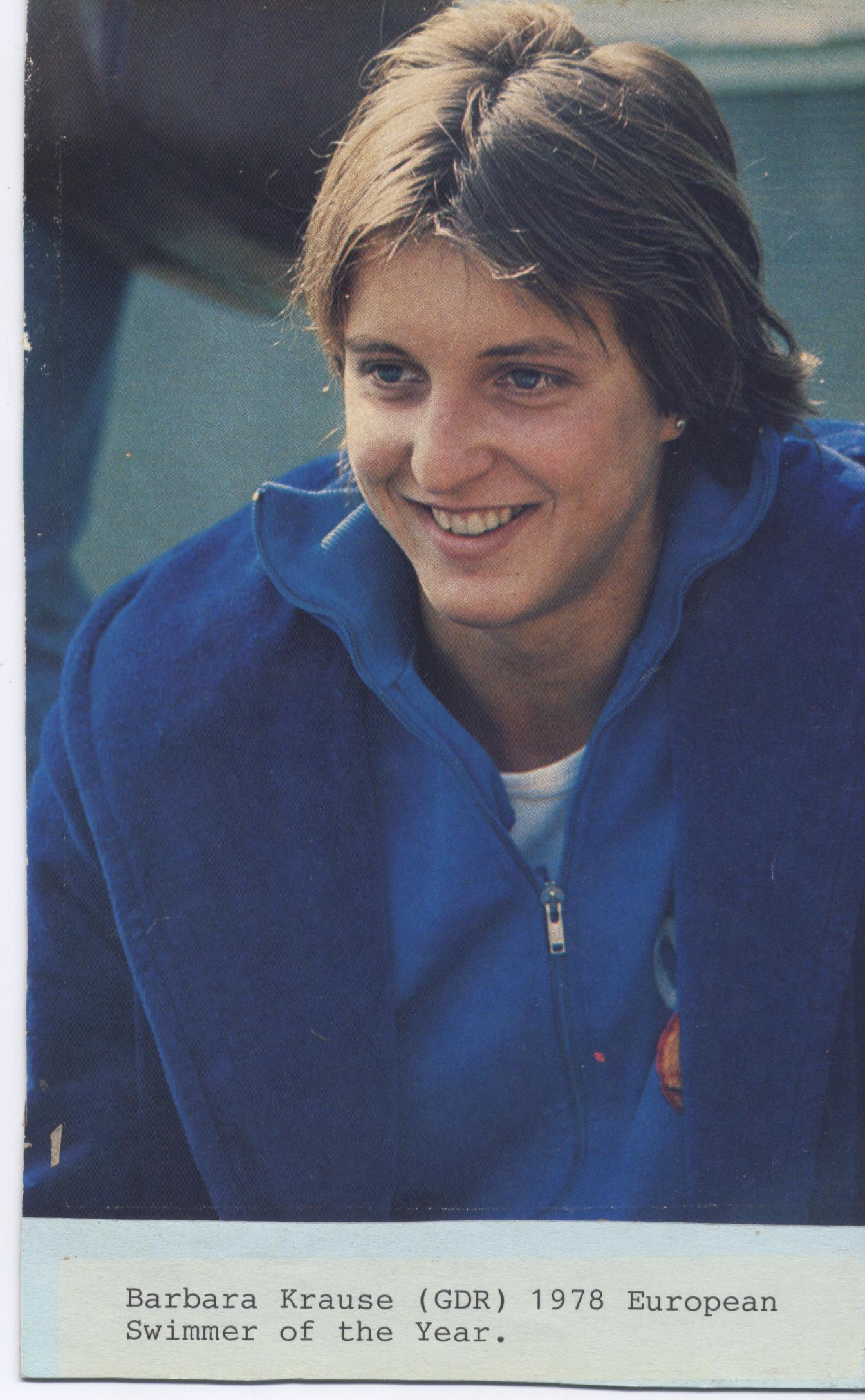 Barbara Krause (GDR)
Honor Swimmer (1988)
The information on this page was written the year of their induction.
FOR THE RECORD: OLYMPIC GAMES: 1980 gold (100m, 200m freestyle; 1 relay); WORLD CHAMPIONSHIPS: 1975 gold (relay); 1978 gold (100m freestyle), silver (200m freestyle; 2 relays); WORLD RECORDS: 8 (100m, 200m, 400m freestyle; 3 relays); GDR CHAMPIONSHIPS: 11 (100m, 200m, 400m, 800m freestyle); 1978 European Swimmer of the Year.
Barbara Krause was the only woman to beat Kornelia Ender in 1976. Yet she had to watch the Montreal Olympics on television from her bed. She had come down with angina and fever on her seventeenth birthday, one month before the Games.
With Ender still active as the world's dominant swimmer, Krause's only world record was in the 400 freestyle. After Ender, (retired however), Krause became the fastest swimmer afloat. She set eight world records in the 100, 200 and 400 meter freestyle relay. Just as she had been the second woman in the world under 56 seconds for the hundred meters (Kornelia was first), Krause became the first woman in the world under 55.
Barbara Krause is a professional photographer in Berlin. "I wanted to see what it was like on the other side of the lens when I retired as a swimmer," she says. Barbara Krause won three Olympic gold medals in the 1980 Olympics and did not swim the medley relay, so it could have been four. Add two relays in 1976, and it's interesting to speculate on how three gold medals might actually have been a very possible record-setting six. Suffice it to say she was, for a four year period, the fastest female swimmer in the world and the top dynamo of the Dynamo Sports Club.
As the world searches for secrets of how one small country can dominate women's swimming, they might check their own children's gym classes for bad posture. Barbara Krause shares more than one thing in common with Kornelia Ender–both started to swim on pediatrician's orders–orthopedic swimming for posture faults. As all time world class swimmers, they certainly were no slouches.
Doping Disclaimer: In a German court of law, after this swimmer was inducted into the International Swimming Hall of Fame, team officials confessed to administering performance enhancing drugs to this swimmer, who therefore obtained an illegal and unfair advantage over other athletes. For more information, click here.