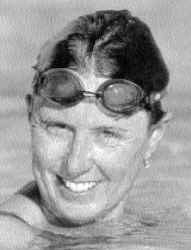 Barbara Dunbar (USA)
Honor Masters Swimmer (2000)
The information on this page was written the year of their induction.
For this young lady, it all began as an age group swimmer at the age of 12. As part of a military family, she moved from place to place, home to home, resulting in many coaches who gave her a foundation for what was to come later in Master Swimming. Coaches Flip Darr, Jack Simon and Mike Troy at the Coronado Swim Club in California, Shelley Mann and Ed Solitar in Virginia,Tom Haynie and Soichi Sakamoto in Hawaii and at the Punahou School all gave her a base of sound swimming skills. And, for some of her swimming years, she was self-coached, a condition that was to plant the seed for success in her mind as she began to excel in Masters swimming later in life.
You can say it both ways, "Masters Swimming has been good for Barbara Dunbar and Barbara Dunbar has been good for Masters Swimming". 91 FINA Masters World Records since 1976 authenticate her International prominence in the sport. She has won 24 US Masters Swimming National Championships in Freestyle, Backstroke, Butterfly and Individual Medley events, and has set 156 US Masters National Records. She has won 18 Long Distance Pool National Championships and 3 Open Water National Championships.
She is a hard and intense competitor who has set records in six age groups beginning with the 25-29 group. She has been a USMS All-Star for 9 years and an All-American 32 times, 11 of those in long distance. She is the first woman over age 40 to break 19 minutes in the 1650y free and the first over age 50 to break 20 minutes in the 1500m and 1650y.
First as a Bio Medical Researcher in biology and immunology and now as a full time finance office manager in her husbands firm, Barbara continues to make time for Masters and continues to set records.
She has received the USMS Distinguished Service Award (1977) and has served on numerous committees of the San Diego-Imperial Local Masters Swimming Committee and Board of Directors, and as the San Diego Swim Masters administrator and newsletter editor/publisher. She is a certified Masters official, referee, starter; the works, and still finds time to volunteer tutor in math, science and reading at the local elementary and middle schools.
Barbara is the epitome of what Masters swimmers achieve and of what Masters swimming represents.