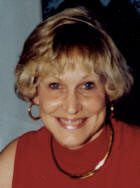 Ardeth Mueller (USA)
Honor Masters Swimmer (1996)
The information on this page was written the year of their induction.
FOR THE RECORD: Masters Swimmer since 1976; 46 WORLD RECORDS: 40,45, 50 year age groups; SEVEN WORLD CHAMPIONSHIPS: 1985, 1991; 64 NATIONAL CHAMPIONSHIPS; 86 NATIONAL RECORDS.
Since its beginning in the early 1970s, the Masters Swimming program has grown worldwide and includes thousands of individuals. They are former competitive swimmers or current fitness swimmers who participate in the program for various reasons: fitness, recreation, camaraderie, self-esteem, cleanliness, or just plain fun. But the premise upon which everyone participates is competition – competition against your competitor and against yourself.
This is the premise upon which Ardeth Mueller has participated. There is no better friend of Masters Swimming, no better promoter of Masters Swimming, and no better achiever in Masters Swimming over a 16 year period than Ardeth.
At the age of five, she began swimming with a summer AAU team in St. Louis, competing through her high school years. Because her colleges, Baylor University and University of Missouri, did not have women's swimming teams, Ardeth swam recreationally until which time her daughters joined a team, pulling their mom with them to swim on the adult team.
She was embarrassed when the coach told her she could move to a faster lane the next day as she found out that the faster lane was full of ten and under swimmers. However, her daughters liked the fact that their mom was getting in shape.
And get in shape she did. From her 1976 beginning, she has set 46 age group world records in the 40, 45, and 50 age group categories. She competed in the Masters World Championships of 1985 in Toronto and 1991 in Indianapolis, winning seven gold medals in the freestyle, butterfly and individual medley events. She has set over 86 national records and won over 90 national championships.
Throughout the last fifteen years, Ardeth has consistently become the oldest woman to break a number of milestone times in different events. she was the first woman to break a minute in the 100yd freestyle in the 50 to 454 age group, as well as posting a 2:30 for the 200yd butterfly, and a 1:0 for the 100m freestyle. In the 45 to 49 age group, she was the first to go under six minutes for the 400m individual medley.
Ardeth consistently dominates her age group in most of the freestyle, butterfly and individual medley events, particularly in the longer distances. Her dominance is demonstrated by the length of time she has held world and national records in these events. While many of these records remain, the others have taken at least seven years for her competitors to break.