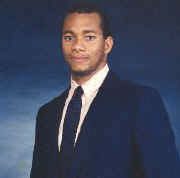 Anthony Nesty (SUR)
Honor Swimmer (1998)
The information on this page was written the year of their induction.
FOR THE RECORD: 1988 OLYMPIC GAMES: gold (100m butterfly), 8th (200m butterfly); 1992 OLYMPIC GAMES: bronze (100m butterfly); 1986 WORLD CHAMPIONSHIPS: 5th (100m butterfly); 1991 WORLD CHAMPIONSHIPS: gold (100m butterfly); 1994 WORLD CHAMPIONSHIPS: 7th (100m butterfly); 1987 PAN AMERICAN GAMES: gold (100m butterfly), bronze (200m butterfly); 1991 PAN AMERICAN GAMES: gold (100m butterfly), silver (200m butterfly); 1989 PAN PACIFIC GAMES: gold (100m butterfly), 8th (200m butterfly); 1990 GOODWILL GAMES: gold (100m butterfly); 17 Suriname NATIONAL CHAMPIONSHIPS: 100m & 200m butterfly, 100m freestyle; 18 Suriname NATIONAL RECORDS: 50m/100m/200m butterfly, 50m & 100m freestyle; ONE U.S. NATIONAL CHAMPIONSHIP: 200y butterfly; FIVE NCAA CHAMPIONSHIPS: 3-100y butterfly, 1-200y butterfly, 1-400y medley relay.
He was born November 25, 1967 in Trinidad and Tobago, the youngest of 5 children. At the age of 9 months his family moved to Surinam where he started swimming five years later. Little did he know at this young age that his swimming career was to lead him to three Olympic Games and to become the hero of his country. Anthony Nesty became Surinam's first and currently only Olympic champion.
Age group swimming was not easy for Anthony. Although highly competitive, he grew tired of the sport, but never gave in to doubts. Swimming through the burnout states at age 14, his father inspired and encouraged him to continue in the sport. His early coaches Gladys Simons and C. van Lierop of the Dolfish Swimming Team in Paraharibo, Surinam, gave him the foundation to excel. His perseverance qualified him, in 1984, for his first of three Olympic teams.
But it was after his 21st placing in the 100m fly at the 1984 Los Angeles Olympic Games, that he and his coach Kenneth McDonald, decided that training in the U.S. would be his best chance of making it internationally. Although he never gave up his membership, he temporarily left the Dolfish Swimming Team in Paraharibo. Anthony entered Bolles Prep School in Jacksonville, Florida. Under Coach Greg Troy's direction, Nesty got stronger and faster. By his high school sophomore year in 1985, he had broken Pablo Morales' 100 yard butterfly national prep school record. Only two years later he won the gold medal in the 100m butterfly and, the bronze medal in the 200m butterfly at the Pan American Games in Indianapolis. He continued his Pan American Games dominance, while at the 1991 Games in Havana he again won the 100m butterfly gold medal and this time took the silver in the 200m butterfly.
But the race in between these two Pan American Games was the race that established Anthony's mark in swimming history. It was at the 1988 Seoul Olympic Games, the finals of the 100m butterfly, that he beat the favored Hall of Famer Matt Biondi in the final stroke, by one-one hundredths of a second, to win the gold medal, becoming the only Olympic Champion in any sport from his country and, becoming the first black athlete to win an Olympic medal in swimming. Anthony also placed 8th in the 200m butterfly.
Anthony returned home to receive his nations highest honor, the Commander of the Yellow Star. Instantly, he was a national legend. The national indoor 50m swimming stadium and national DC-8 airplane were named after him. The Surinam government commemorated him on a stamp and on gold and silver coins. A 25 Guilders bank note portraying the illustration of a butterfly swimmer depicting as Anthony, was printed in his honor.
Anthony had been swimming for the University of Florida, under coach Randy Reese since 1987, and continued there his final two years of collegiate competition under the guidance of Skip Foster and Chris Martin, winning a total of 5 NCAA National Championships.
At the 1991 World Championships in Perth, Anthony retained his world dominance in the 100m butterfly by beating the former world record holder Michael Gross of Germany. At the 1992 Barcelona Olympics, Anthony won the bronze medal in the 100m butterfly only .09 seconds behind winner Pablo Morales of the USA. This completed Anthony's third Olympic Games.
Throughout the tremendous success of Anthony's swimming career, he has always remained obscure to the accolades. His shy, humble demeanor, reflects a person with a big heart. He tends to minimize the results of his own achievements. But he remains just as disciplined, just as focused and gives back just as much to the aspiring swimmers of today, as coach of the Swim Florida Team of Sarasota, Florida. He lends his name to the Anthony Nesty Drug Prevention Poster for the youth of French Guyana, Guyana and Surinam. In 1991, he was named the Goodwill Ambassador of the Republic of Surinam. In 1992, he was appointed a member of the FINA Athletes Commission. All the gold he has won does not outshine his compassionate heart and drive for perfection as he inspires these young swimmers.