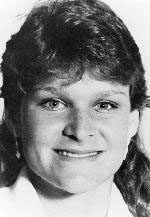 Anne Ottenbrite (CAN)
Honor Swimmer (1999)
The information on this page was written the year of their induction.
FOR THE RECORD: 1984 OLYMPIC GAMES: gold (200m breaststroke), silver (100m breaststroke), bronze (4x100m medley relay); 1982 WORLD CHAMPIONSHIPS: silver (100m breaststroke), bronze (200m breaststroke); 1982 COMMONWEALTH GAMES: gold (200m breaststroke), silver (100m breaststroke); 1983 PAN AMERICAN GAMES: gold (100m breaststroke, 4x100m medley relay); CANADIAN GAMES: gold (100m and 200m breaststroke, 4x100m medley relay); 5 CANADIAN NATIONAL CHAMPIONSHIPS: 3 short course, 2 long course (breaststroke).
You could say that Canada's Anne Ottenbrite was born to swim the breaststroke. At age 3, she learned to swim in her backyard pool in Whitby, Ontario and immediately started using a whip kick. It came very naturally to her and by age 12 she was swimming competitively at the Oshawa Aquatic Club.
Her phenomenal flexibility allowed her to use an undulating upper-body movement in her stroke, long before it became the popular technique. Being tall and lanky at 5'8 ¾" and 132 pounds, her double-jointedness lent itself to use this technique. Her first coach, Lynne Trimbee, brought Anne along gradually with heavy emphasis on stroke technique. It was not until age 15 that she began to significantly lower her times.
In 1981, she moved to the Ajax Aquatic Club and coach Paul Meroneu who intensified workouts and stressed quality pool and dry land training. In less than a year, she turned into one of the world's leading breaststrokers. Between 1981 and 1984, she won the silver and bronze medals in the 100m and 200m breaststroke at the Guayaquil 1982 World Championships, the gold and silver medals in the 200m and 100m breaststroke at the 1982 Commonwealth Games and 5 Canadian National Titles in the breaststroke. She was twice named Canada's Female Swimmer of the Year.
Because her undulating body motion caused her legs to break the water's surface, she was disqualified in a few international invitationals resulting in a slight kick-stroke change to assure not being disqualified in the Olympics. But her biggest problem before the Los Angeles Olympics occurred when she accidentally dislocated her knee. Being loose jointed, she didn't rip any tendons. But she couldn't kick and was forced to do only pulling in workouts. Her tremendous flexibility helped her rehabilitation (she could turn her feet around completely backwards and twirl her arms at the elbows).
Competing in the Olympic Games of 1984 was her goal. She had won the gold medal in the Pan American Games the year before and was Canada's top breaststroker for the medley relay. Her dilemma was that her bad knee prevented her from swimming in the Olympic Trials. Fortunately, Canadian Technical Director and Head Coach Trevor Tiffany declared that Anne would be added to the team, irregardless of the complaints of coaches who said she never officially qualified for the team. Trevor knew that Anne was one of Canada's best chances for a medal. His foresightedness paid off when 18 year old Ottenbrite became Canada's first-ever gold medalist in women's swimming by capturing the 200m breaststroke. Just after Alex Baumann's 400m I.M. swim, she was Canada's third gold medalist in swimming behind Alex (1984) and George Hodgeson (1912). She also won the silver in the 100m breaststroke and bronze on the 4 X 100m medley relay.
Since 1988, Anne has been coaching swimming, currently as the University of Guelph Assistant Coach and Guelph Marlins Swim Club Head Age Group Coach. She is a graduate of the University of Southern California (1984-1986) and Wilfred Laurier University (1987-1990) in Ontario. She and her husband Marlin Maylaert have a son, Cameron.