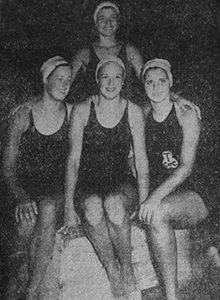 Anne B. Adams (USA)
Honor Masters Swimmer (2017)
The information on this page was written the year of their induction.
INTERNATIONAL HIGHLIGHTS (SWIMMER): World Points – 327, Pre- 1986 Points – 575, Total Points – 902. Competed in 5 age groups (40-44 through 60-64). 12 FINA MASTERS WORLD RECORDS
As a teenager, Anne Adams swam for the great Hall of Fame coach, Walt Schlueter in the Chicago area. She was swimming at her country club, when a scout showed up and asked her if she'd like to swim for Coach Schlueter? Anne never dreamed that the girls she was swimming against as a teen, (girls like June Krauser and Gail Roper) would be the same women she would race against 50 years down the road in Masters swimming. When her high school years were over, and it was time to attend college, there was no title IX. Anne had to do her best to try and keep in shape during the school year and then head home and try and compete at Nationals. Anne says that plan didn't work out so well.
Anne eventually married and had children, and as soon as her children were off to school, Anne was headed back to the pool. Anne Adams began competing in 1972, setting FINA Masters world records in the late 1970's, 1980's and early 1990's. She was in the Top Ten consistently from 1972 to 1993 for a total of 21 times. She set a total of seven long course FINA Masters world records and five short course records for a total of 12 FINA Masters world records in the strokes of butterfly, backstroke and freestyle.
Adams could swim every stroke, from 50 to 1500m. She was best at the butterfly, but the freestyle was her favorite, as were the long distances. She was NOT a sprinter, she says.
Prior to the development of United States Masters Swimming, Anne met Ransom Arthur in San Antonio, Texas. Ransom and Anne discussed the possibility of Masters Swimming and Arthur asked Adams if she would help. Anne's response was, "If you get the AAU to approve Masters Swimming, I'll be here to give you all the help you need!"
Anne competed in five different age groups, beginning in the 40-44 age group and finishing her career in the 60-64 age group. Anne attended and competed in two FINA Masters World Championships in 1986 and 1988, winning a total of eight gold, two silver and one bronze in the backstroke, butterfly and freestyle events.
Anne was an All-American 20 times, beginning in 1972, in the 40-44 age group in the freestyle, breaststroke and I.M. She continued as an All-American almost every year in numerous events, all the way through the end of her swimming career in 1991 (60-64 age group). Adams was also an open water swimmer, winning individual All-American status in long distance events in 1978, 1979 and 1990.
Adams says the best part about Masters swimming was always looking forward to the big meets, like Nationals, knowing you would get to see old friends, some who you've known and swam against for most of your life!