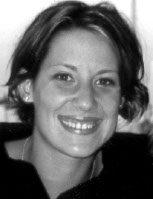 Anita Nall (USA)
Honor Swimmer (2008)
The information on this page was written the year of their induction.
FOR THE RECORD: 1992 OLYMPIC GAMES: gold (4x100m medley), silver (100m breaststroke), bronze (200m breaststroke); THREE WORLD RECORDS: 2-200m breaststroke, 1-4x100m medley; EIGHT US NATIONAL CHAMPIONSHIPS: 5 short course: 2-100m breast-stroke, 3-200m breaststroke; 3 long course: 1-100m breaststroke, 2-200m breaststroke; 1990 US OPEN: gold (200m breaststroke); 1991 US OPEN: gold (200m breaststroke); 1993 PAN PACIFIC CHAMPIONSHIPS: gold (100m, 200m breaststroke); 1995 PAN AM GAMES: bronze (200m breaststroke);
She joined the swim team at age five following in the footsteps of her two older sisters. By age 12, she set age group records and at 14 notched an American record. Swimming for Coach Murray Stephens at North Baltimore Aquatic Club, she developed a technically perfect breaststroke using the new-style stroke of the time.
At age 15, only a sophomore in high school, she qualified for the 1992 Olympic team and in the process, set two world records on the same day in the 200 meter breaststroke, which were not broken for another two years. Competing as the "baby" of the 1992 U.S. Barcelona Team, Anita Nall won gold, silver and bronze medals swimming the breaststroke. Her gold medal swim came as a member of the 4 by 100 meter medley relay, which also set the world record. Her silver medal came in the 100 meter breaststroke, just out-touched by Russia's Elena Rudouskaya, and the bronze medal in the 200 meter breaststroke, where only point two seconds separated gold from bronze. Anita continued swimming after the Olympic Games, winning gold medals in the 100 and 200 meter breaststroke at the 1993 Pan Pacific Championships. Due to chronic health problems, that went incorrectly diagnosed for years, her swimming faltered and she was unable to qualify for the 1996 or 2000 Olympic Teams.
Today, Anita is a Holistic Nutrition Specialist focusing on nutrition and wellness where she conducts workshops for food allergy sufferers.