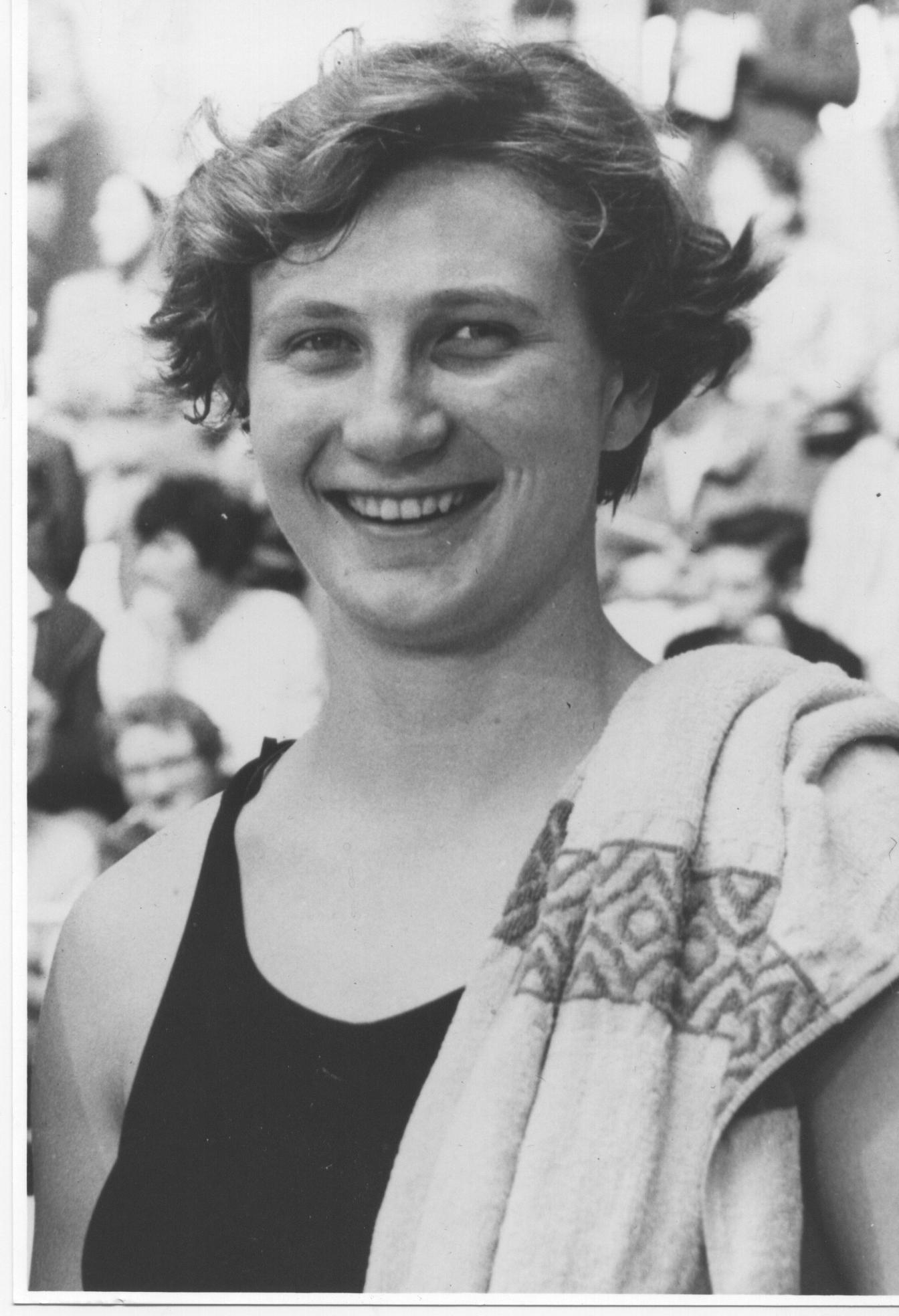 Anita Lonsbrough (GBR)
Honor Swimmer (1983)
The information on this page was written the year of their induction.
FOR THE RECORD: OLYMPIC GAMES: 1960 gold (200m breaststroke); 1964 British Tokyo Olympic team (individual medley; relay); WORLD RECORDS: 6 (100m, 200m breaststroke; medley relay); COMMONWEALTH GAMES: 1958 gold (220yd breaststroke; medley relay); 1962 gold (110yd, 220yd breaststroke; 440yd individual medley), silver (medley relay); EUROPEAN CHAMPIONSHIP: 1962 gold (200m breaststroke), silver 9400m individual medley), bronze (medley relay); ASA BRITISH CHAMPIONSHIPS: 8 (1958-1962: 220yd breaststroke; 1963: 220yd freestyle; 1963-1964: 440yd individual medley).
Anita Lonsbrough dominated British swimming over a 7-year period (1958-64) during which she won 7 gold medals, 3 silver and 2 bronze medals in the three major International Games available to her. She set World Records in the Olympics, British Commonwealth, European and her A.S.A. National Championships. Her titles were in breaststroke, individual medley and freestyle. A definite "P.M.'r" she had to get up at 4:00 a.m. in order to be ready for preliminaries at 10:00 a.m.. In 1960, after beating the World Record holder Wiltrud Urselmann for the breaststroke Olympic gold in a new World Record, Anita was named the Daily Express (British) "Sportswoman of the Year", and British Sportswriters' "Sports Woman of the Year", honors which she repeated in 1962 after her 3 gold Commonwealth Games. She was the first woman to receive the B.B.C.-TV "Sports Personality of the Year", and the following year, won the distinguished M.B.E. for services to swimming. In Tokyo 1964, she was the first woman to carry the Union Jack in the Opening Ceremonies Olympic parade. In 1965, she married Hugh Porter, an Olympic cyclist, who went on to win the World's Professional 5,000m pursuit, (the only man to win this title four time).