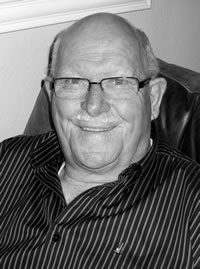 Andrew "Andy" Burke (USA)
Honor Contributor (2010)
The information on this page was written the year of their induction.
INTERNATIONAL HIGHLIGHTS (CONTRIBUTOR): TEAM LEADER OF THE OLYMPIC CLUB WITH 11 FINA MASTERS WORLD CHAMPIONSHIP MEDALS: 1998 – gold (30+), 2000 – silver (30+), 2002 – gold (35+), silver (40+) , 2004 – gold (35+), silver (40+), 2006 – gold (40+), silver (30+), 2008 – gold (30+), silver (45+), bronze (40+); MEET DIRECTOR 2006 FINA MASTERS WORLD CHAMPIONSHIPS; SECRETARY USAS: 1978-1988; MEMBER UANA: 1963-1975; MEMBER UANA EXECUTIVE BOARD: 1975-1991.
Andy Burke has been involved in the sports of swimming and water polo as an athlete, coach, team leader, an administrator and a referee for over 60 years. He first competed as a swimmer and water polo player with the Olympic Club of San Francisco in 1945, and has been continuously involved to the present day.
Andy was a member of the USA Olympic Water Polo Committee from 1961 to 1976, Chair in 1961-1965, and elected to the USA Water Polo Hall of Fame in 1982. He served as Secretary for the newly formed United States Aquatic Sports (USAS) from 1978-1988. Andy served on the UANA (Union Amateur Natation de Las Americas) from 1963-1975, chairing the committee from1971-1975. He was elected to the Executive Board of UANA in 1975, and served until 1991.
Andy was instrumental in organizing Masters water polo in the USA in 1987. In addition to the duties as Olympic Club Masters Team Leader for water polo, where his teams have won 11 FINA Masters World Championship medals, Andy assisted the FINA Masters Committee in restructuring the water polo competition at the 2004 FINA Masters World Championships and served as Director of Water Polo at the 2006 FINA Masters World Championships at Stanford, California. The Conduct of Championships he developed for the 2006 FINA Masters World Championships serves as a guideline for FINA Masters water polo competitions at the FINA Masters World Championships and he currently volunteers as a water polo consultant to the FINA Masters Committee.
Andy says he has always enjoyed the sport of water polo, the feeling and the people. It has been a labor of love.
"The opportunity to be involved in Masters allowed me to be around the sport, and around the people a bit closer to my age that also had the same feeling for the sports as I had."
Andy goes on to say that he feels he never really left the sport of water polo, so as for being involved with Masters, he never had to come back….it was just a natural progression.
Andy is a person who has been completely dedicated to serving water polo and the aquatic sports.