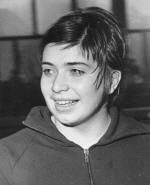 Andrea Gyarmati (HUN)
Honor Swimmer (1995)
The information on this page was written the year of their induction.
FOR THE RECORD: 1972 OLYMPIC GAMES: silver (100m backstroke), bronze (100m butterfly); 1 WORLD RECORD: (100m butterfly); 1973 WORLD CHAMPIONSHIPS: bronze (200m backstroke); 1970 EUROPEAN CHAMPIONSHIPS: gold (200m backstroke, 100m butterfly), silver (100m backstroke, 4x100m medley relay); 28 HUNGARIAN NATIONAL CHAMPIONSHIPS: freestyle, backstroke, butterfly.
Andrea Gyarmati was born in 1954 in Budapest, Hungary, to parents who had an Olympic heritage. Andrea's commitment to succeed in her life goals developed as a result of her parents' example. Her mother, Eva Szekely, known as "Madame Butterfly," overcame rough treatment as a Jew in the European community of World War II to become the 100m breaststroke world record holder and 1952 Olympic gold medalist. Her father, Dezso Gyarmati, was a three-time water polo Olympic gold medalist and the first to succeed as a great player and coach from this giant of a swimming and water polo country.
She was taught to swim at the age of three by her mother's coach, the master and Hall of Famer, Imre Sarosi. By the age four, Andrea was jumping off the 10m diving tower. As Andrea improved and her swimming became more important, Eva became her coach and taught Andrea the butterfly stroke – the stroke first performed in the 1940s by Eva as the over arm breaststroke which earned her the title of "Madame Butterfly."
Twenty-five years later, it was Andrea Gyarmati setting records at the 1972 Munich Olympics. Her goal was the Olympic gold medal, and she had not lost a 100m fly race in the preceding four years. In the semi-finals, she set a new Olympic and world record 1:03.34. Eight of her competitors qualified for the finals within seven-tenths of a second of each other, but the finals were a disappointment to Andrea. to anyone else, a bronze medal would have been acceptable; Andrea was gong for the gold. But she was strong and spirited and knew that only the winners can cry. She returned the next day to win a silver medal in the 100m backstroke, only one-tenth of a second behind Hall of Famer Melissa Belote of the U.S.A.
All told, Andrea was Europe's best butterflyer and backstroker in the late 1960s and early '70s and was honored as Hungary's "Sportswoman of the Year" from 1968 through 1972. She won 28 Hungarian National Championships in freestyle, backstroke and butterfly, winning the 100meter butterfly seven consecutive years and the 100m backstroke four consecutive years.
Andrea Gyarmati joins her parents to become the only mother, father, and daughter family ever to be inducted into the International Swimming Hall of Fame.