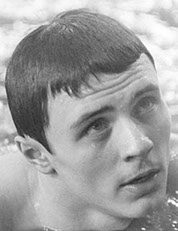 Andras Hargitay (HUN)
Honor Swimmer (2008)
The information on this page was written the year of their induction.
FOR THE RECORD: 1972 OLYMPIC GAMES: bronze (400m I.M.); ONE WORLD RECORD: 400m I.M.; 1973 WORLD CHAMPIONSHIPS: gold (400m I.M.); 1975 WORLD CHAMPIONSHIPS: gold (200m I.M., 400m I.M.); 1974 EUROPEAN CHAMPIONSHIPS: gold (200m butterfly, 400m I.M.), bronze (200m I.M.); 1977 EUROPEAN CHAMPIONSHIPS: gold (200m I.M.).
The small, European country of Hungary is noted for producing the world's great individual medley swimmers including Olympic champions, Tamas Darnyi and Attila Czsne. But it all began with a young 16 year old swimmer, who in 1972 won the Olympic bronze medal in the 400 IM in Munich, less than one second behind Gunnar Larson of Sweden and Tim McKee of the US who finished with identical times. Under the coaching guidance of Tamas Szechy, Andras Hargitay was on his way to become the great IM swimmer of the 1970's.
At the first World Championships in 1973 Belgrade and again in 1975, Hargitay beat the competition by over three seconds to win gold in the 400 meter IM as well as a gold medal in the 200 IM in 1975. At the Vienna European Championships of 1974, he not only won the gold medals in the 200 meter butterfly and 400 IM, he broke Gary Hall's 400 IM five-year old world record by two seconds, holding the record for two years until it was broken by his team mate, Zolton Verraszto. In 1977, he again won the European Championships, this time in the 200 IM. All told, he won six titles at World and European Championships and was named the Hungarian Sportsman of the Year for 1975.