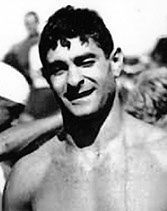 Alfred Nakache (FRA)
Honor Pioneer Swimmer (2019)
The information on this page was written the year of their induction.
FOR THE RECORD: 1936 OLYMPIC GAMES: 4TH (4x200m freestyle); 1948 OLYMPIC GAMES; 1938 EUROPEAN CHAMPIONSHIPS: silver (4x200m freestyle); WORLD RECORD: 200m breaststroke (1941), 3x100m relay 3 strokes (1946); FRENCH CHAMPION: 13 titles, including 9 consecutive: 100m freestyle (1935-38, 41, 42), 200m freestyle (1937-38, 1941–42), 400m freestyle (1942), 4x200m freestyle (1937-39, 1942, 1944-52); 1931 NORTH AFRICAN CHAMPION: 100m freestyle in 1931; 1935 MACCABIAH GAMES: silver (100m freestyle)
The name of Mark Spitz with his unprecedented seven gold medals and seven world records at the 1972 Munich Olympic Games stands out above all other achievements in Jewish sports history, but the title for the first great Jewish butterfly swimmer, belongs to another and this is his story. This is the story of French Algerian, Alfred Nakache.
With shoulders lined with hard and protruding muscles, "Artem" as he was known, took part in his first French Championships, in 1933, in Paris where he later moved from Algeria that summer, to train and to pursue a degree in Physical Education. At the 1934 French Nationals, he placed second in the 100m freestyle, behind his idol, Jean Taris. In 1935, Artem was one of 1,000 Jewish athletes who traveled to Tel Aviv to attend the second annual Maccabiah Games.
In front of Hitler, in 1936, at the Berlin Olympic Games, Nakache finished fourth in the 4×200m freestyle relay along with teammates, Christian Talli, René Cavalero and Jean Taris. Although they didn't make the podium, they had the pleasure of beating the Germans -who finished fifth- in their home country.
Between 1935 and 1938, Artem Nakache won seven national titles and began training in the new butterfly-breaststroke. After receiving his certificate as a professor of Physical Education, in 1939, he stopped training to join the French Air Force in preparation for war with Germany.
In the early part of the 1940's, Nakache was forced to flee to Toulouse, into the unoccupied "Free Zone", with his new wife Paule. There he was welcomed like a son by two historical figures of French swimming, coach Alban Minville and Jules Jany. He was provided a gym to run and he began training with Minville's Toulouse Olympic Employee's Club Dauphins. In 1941 and 1942 Nakache won six French National titles, but the high point of his career came on July 6th, 1941—when he broke American Jack Kasley's world record, and Germany's Joachim Balke's European record, in the 200m breaststroke with a time of 2:36.8. His world record would last five years, until broken in 1946 by Hall of Famer Joe Verdeur of the USA.
As anti-Semitic persecution was intensifying across Europe, the French media was split in their support for Nakache. While Jean Borotra, the courageous Vichy Commissioner of Sport and Wimbledon tennis champion, celebrated his achievements, others called for his exclusion from national competitions and the record books because of his "Jewishness."
In 1943, the French Swimming Federation finally gave in to the pressure from the Germans and banned Alfred Nakache from swimming in their 1943 National Championships. Although many of the country's best swimmers refused to compete without Nakache, their support couldn't save him from the Nazis. Finally, in December of 1943, Nakache, his wife and daughter, were arrested and sent to Auschwitz. Upon arrival he was immediately separated from his family.
Toward the end of the war, Nakache was moved to Buchenwald, where he was freed by the Allies in 1945. Of the 1,368 men, women and children in their death camp convoy, Nakache was one of only 47 who survived. His wife and daughter did not. Four months later and weighing less than 100 pounds, he returned to Toulouse, where he lived with the Jany family. Amazingly, less than a year after the liberation of Buchenwald, he was part of the French team in 1946 that set a world record in the 3×100m medley relay and reclaimed his title as French national champion in the 200m breaststroke.
He completed a truly remarkable comeback by qualifying for the 1948 French Olympic Team in two sports. At the London Games, 34-year-old Alfred Nakache swam well enough to reach the semi-finals in the 200m breaststroke, and after swimming concluded, he was a member of the French water polo team that finished in sixth place overall.
Nakache retired from swimming in the early 1950s and devoted himself to his gym and teaching. In addition, he helped train 1952 Olympic champion Jean Boiteux. With his long over-due induction, Nakache will forever be reunited with his idol, Jean Taris, his coach Alban Minville and world-record setting relay teammates, Georges Vallery and Alex Jany, into the International Swimming Hall of Fame.