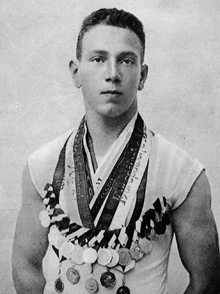 Alfred Hajos (HUN)
Honor Swimmer (1966)
The information on this page was written the year of their induction.
FOR THE RECORD: OLYMPIC GAMES: 1896 gold (100m, 1200m freestyle); first Olympic swim champion. The first modern Olympic swimming champion was Alfred Hajos, a double winner at Athens in 1896. Hajos won the 100 meter freestyle in 1:22.2 beating out the local favorite Chorophas and Herschmann of Austria.
The Austrians got back in the swim as Paul Neumann won the 500 meter freestyle over two more Greeks while Hajos was resting up for his second win, the 1200 meter freestyle in 18:22.2. Thus Alfred Hajos took home two of the three gold medals offered in swimming. His teammate, Zoltan Halmay got only a third, but came back in the next four Olympics to be the other Hungarian from the first Olympics to make the International Swimming Hall of Fame. The Austrian Neumann became a prominent U.S. doctor. Hajos stayed in Hungary, survived World War I, and came back to the Olympics 28 years after his first try, this time 1924 Paris, where he won another gold medal. It was in a cultural Olympic art and architectural contest.
Architect Hajos later designed Budapest's finest competitive swimming pool, club and baths in which Hungary trained its next great Olympic 100 meter champion, Czik Ference in 1936, and its great postwar women swimmers, Szoke, Gyenge, Szekely, Temes and the Novak Sisters.