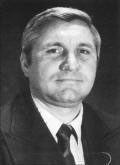 Alexei Barkalov (UKR)
Honor Water Polo (1993)
The information on this page was written the year of their induction.
FOR THE RECORD: OLYMPIC GAMES: 1972 gold, 1980 gold, 1968 silver; EUROPEAN CHAMPIONSHIPS: 1977 gold; WORLD CHAMPIONSHIPS: 1975 gold.
As the captain of many Soviet water polo teams, Alexei Barkalov was a magnificent attacking and defensive player. Not only was Barkalov a leading member of the Olympic gold-medal-winning 1972 and 1980 Olympic teams, numerous competitions turned gold for the Soviets with Barkalov as a member of the squad during the intense water polo decade of the 1970s.
Alexei Barkalov made his Olympic debut in 1968, winning the silver medal, as the Soviets were defeated by Yugoslavia 13-11 in overtime. Four years later, at the Games in Munich, the Soviet team was back on top as they defeated Hungary for the gold medal by point differential.
The 1972 Olympic water polo tournament in Munich has been described as one of the best, going down to a final game, reminiscent of the dramatics of the 1956 Olympic showdown between the USSR and Hungary.
Statistically the USSR and Hungary tallied three victories, a tie, and a single defeat. In scoring, the USSR outscored it opponents for 22-16 in the final round. Hungary scored 23 goals to 18 for opponents. The largest difference between winning and losing was the Soviet's decisive 4-1 victory over Italy in preliminary competition. It was this game that secured the gold medal for Barkalov and his teammates.
However, by 1980, the Olympic gold medal favorite was Yugoslavia, having won the coveted Tungsram Cup over the Hungarians earlier in the year. The Soviets chose to not compete in the Tungsram Cup tournament and, for the most part, kept a low profile until the Games in Moscow, where they defeated the Yugoslavian team 8-7 in the final game.
The 1980 gold medal victory for Barkalov and the Soviet team marked the sixth Olympic medal for the Soviets since first winning the bronze medal in 1956. The Soviet Union has won the Olympic gold medal twice, and Barkalov proudly was a member of both teams.