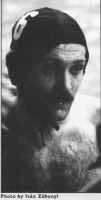 Aleksandr S. Kabanov (URS)
Honor Water Polo (2001)
The information on this page was written the year of their induction.
FOR THE RECORD: 1972, 1980 OLYMPIC GAMES: gold; 1973 WORLD CHAMPIONSHIPS: silver; 1975, 1982 WORLD CHAMPIONSHIPS: gold; 1983 EUROPEAN CHAMPIONSHIPS: gold; 1974, 1981 EUROPEAN CHAMPIONSHIPS: silver; 1981, 1983 WORLD CUP: gold; Russian National Team Coach: 1994-1996; Russian National Assistant Team Coach: 1985-1992.
He was 14-years-old when he saw his first foreign water polo team at play. They were the Yugoslavians – players of formidable size to a youngster just beginning his career. Hall of Famer Mirko Sandic was not only a giant to his Yugoslavian team but also to young Aleksandr. He studied those players who came before him and those players who became his opposition, such as Hall of Famers Eraldo Pizzo and Gianni deMagistris of Italy, Istvan Szivos and Tames Farago of Hungary and his Russian teammate Alexei Barkalov. The career of Russian Aleksandr Kabanov grew rich from experience accumulated by watching others.
At the 1972 Olympic Games in Munich, the U.S.S.R. won its first Olympic gold medal with Kabanov playing on his first Olympic team. The final game was hard-played and the victory over the powerhouse Hungarian team came down to the last three seconds.
Kabanov and his team won the silver medal the next year at the 1973 Belgrade First World Championships losing to the same Hungarian team they had beaten the previous year at the Olympics. But at the 1975 Call Second World Championship and again at the 1982 Quayaquil Fourth World Championships, Kabanov's team beat the Hungarian team again for the gold medal. Kabanov was team captain.
In European Championship competition, probably the toughest water polo competition in the world other than the Olympic Games, Aleksandr and his teams won a gold medal (1983) and two silver medals (1974,1981). They also won the 1981 and 1983 World Cup of Water Polo.
Representing the Central Navy Sports Club of Moscow, Kabanov competed for 19 years playing in over 432 games for the U.S.S.R. National Team. As a center forward player, he was most feared for his drives on the goalie and shots on goal.
Upon retirement as an athlete in 1985, he immediately entered the coaching ranks as Russian National Team assistant coach and then head coach 1994-1996. He coached at three Olympic Games, winning two bronze medals (1988,1992); three World Championships, winning three bronze medals (1986,1991, 1994); five European Championships, winning two golds (1985,1987) and one bronze (1991); and four World Cups winning one silver and one bronze. He also coached his local water polo club to numerous national championships.
Aleksandr Kabanov, a boy who had studied the giants of his sport eventually became a giant in his sport.