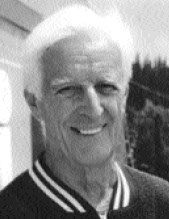 Aldo da Rosa (USA)
Honor Masters Swimmer (2004)
The information on this page was written the year of their induction.
INTERNATIONAL HIGHLIGHTS: World Points – 1235, Pre-1986 Points – 75, Total Points – 1310; Since the 1970's he has competed in six age groups (60-64 into 85-89); 44 FINA MASTERS WORLD RECORDS;
Aldo Weber Viera da Rosa was born in Florianópolis, Santa Catarina, Brazil, November 15, 1917, into his father's PortugueseAzorean family established in Brazil in 1745 and his mother's German-born family. Santa Catarina was mostly bilingual but at home German was mainly spoken. He attended an excellent military school in Rio de Janeiro and then entered the Brazilian Military Academy and later the Aeronautical School.
In 1941, theAmerican government invited two Brazilian officers for a prolonged stay in the USA and Aldo spent the next four years basedmostly at theAlameda Naval Air Station, CAas a guest of the U.S. Navy. While there, he enrolled at Stanford and got an advanced degree in electrical engineering (involving a full year of research at Harvard). After the war he returned to Brazil with the rank of captain in the Brazilian Air Force and stayed in the service until retirement as a brigadier general in 1965. Remarkably, in 27 years in theAir Force, he served less than on full year in a strictly military capacity. But he did accumulate many hours of flight duty – including a few thousand hours piloting C47s.
In 1963, he came back to Stanford and two years later received a Ph.D. in electrical engineering. Since then, he has been teaching at the University. Before his return to Stanford and while in Brazil,Aldo possessed many achievements: founder and director of the Research and Development Institute (Br.) 1954-1961; director of the Aeronautical Technical Center (Br.) 1954; chairman of the National Research Council (Br.) 1956/57; founder and first president of the National Institute for Space Research (the Brazilian NASA) 1961/63; founder and CEO of the Company for the Development of Technology (Br.) 1976/1982; vice chairman and later chairman of NOVADATA (computer manufacture, Br.) 1979/83; Advisory Council of Siemens (Br.) 1979/81; CEO Aldi Research Corp. (Palo Alto) 1972/93.
As a young swimmer in Brazil, Aldo was selected to be part of the 1936 Brazilian Olympic Team, but school responsibilities kept him from going. Actually, he was a much better 800-meter runner than swimmer, and stuck more to the track than to the pool. In 1956, while competing in a world glider championship in France, he suffered a serious accident trying to cross the Alps toward Switzerland and suffered a compound fracture of the leg. In 1971, he re-broke the leg twice on the track at Stanford and regretfully began showing up at the Stanford pool for exercise.
Although he had never heard of Masters Swimming in 1976, he was asked to be the 4th member of a Rinconada relay team which ended up breaking the national record. He was getting the Masters fever and by 1983, having turned 65, he was taking swimming seriously and working out at a gym. The results were unexpected. He broke the national records in all three IM events (yards) and later, in the Fort Lauderdale Short Course National Championships, he broke two additional national records – 100 and 200 breast.
But national records began to evolve to FINA World Records and since 1986, when in the 65-69 age group, da Rosa has set 42 FINAWorld Records- 10 LCM and 32 SCM. (For many of the long course seasons he was in Brazil). His events included everything from the 400m to 1500m freestyle; 100m, 200m and 400m I.M.; and the 200m breaststroke, a stroke newly acquired since beginning Masters Swimming. He has competed in the FINA Masters World Championships of Tokyo, Brisbane, Rio de Janeiro, Indianapolis and Montreal, winning 8 gold, 12 silver and 1 bronze medal. Currently he is in the 85-89 age group.
Aldo swims six or seven days a week, averaging 2200 yards. He places great importance on stretching to prevent injury and to keep going and likes to do a couple of days per week strength training.
Da Rosa enjoys the camaraderie and vigor upon which Masters Swimming thrives. He has a great sense of humor and appreciates the basic complexities of life. Among the awards he has received, one dearest to his heart is the Joy of Swimming, sponsored by George Cunningham in horror to his sister, Peggy Luchesi, who died during a meet at Rinconada, just after having done her personal best time in the 100 yard freestyle.
With a grin, he says, "The great merit of Masters Swimming is that your competition ages at the same rate you do. Thus, every five years you are young again, at least relatively. The bad thing about Masters Swimming is its addictive nature. For years, I have been trying to drop the activity but have been unable to overcome the withdrawal symptoms."