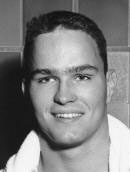 Albert Wiggins (USA)
Honor Swimmer (1994)
The information on this page was written the year of their induction.
FOR THE RECORD: 1956 OLYMPIC GAMES: seventh (100m backstroke); 4 WORLD RECORDS (100m & 100yd butterfly); 8 NATIONAL AAU CHAMPIONSHIPS: backstroke, butterfly and freestyle; 3 NCAA CHAMPIONSHIP TITLES: 100yd individual medley, 200 yd individual medley, 400yd medley relay, 1955-56; 6 BIG 10 CONFERENCE COLLEGE CHAMPIONSHIP TITLES: backstroke, butterfly, freestyle, relay.
Hall of Fame Coach Mike Peppe of the great Ohio State University swimming program and 1952 Olympic coach called Albert Wiggins, "The greatest all around swimmer I ever coached."
This is great praise from a coach who produced Olympic champion superstars Bill Smith, Ford Konno and Yoshi Oyakawa; but, Wiggins deserved the praise as one of Peppe's, the USA's and the
world's most versatile world class swimmers in at least three strokes–butterfly, backstroke and freestyle. He put them all together as one of the all time greats in the individual medley.
Albert M. Wiggins, a Pittsburg native, showed in high school he was destined to be high point champion in many important meets, scoring points in all strokes at the sprint distances. Wiggins was the consummate team swimmer, ready to swim any and all events regardless of stroke.
Al Wiggins was first, last and always a college swimmer, supreme in short course yard events and able to psych himself up for his school. His American records are many and are the fastest times in the world during his time, but not recognized as world records by FINA, who recognized only meter times even though more than half of the world swimming at the time was swum in yard short course pools. Wiggins was a pioneer in both the butterfly and the individual medley, both of which were first developed in the United States.
Even the Sports Illustrated cover boy hex did not stop Al Wiggins from becoming America's swimmer of the pre-Olympic year in 1955. He made the Olympic final at Melbourne ('56) in the 100 backstroke. This 6 foot four inch, well-muscled giant was forerunner of the big swimmers who dominated the modern, no hand touch swimming we see in world swimming today. His world and American records are impressive in any era.