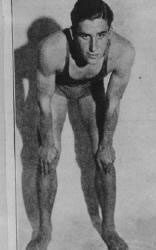 Albert VandeWeghe (USA)
Honor Swimmer (1990)
The information on this page was written the year of their induction.
FOR THE RECORD: OLYMPIC GAMES: 1936 silver (100m backstroke); WORLD RECORDS: 6 (100yd, 100m, 220yd backstroke); AAU NATIONAL CHAMPIONSHIPS: 6 (150yd, 100m backstroke; relays); NCAA CHAMPIONSHIPS: 5 (150yd backstroke; relays); AMERICAN RECORDS: 9 (100yd, 200m, 220yd, 150yd, 440yd, 500yd backstroke).
It would be difficult to find a better family athletic record than the example set by Uncle Al VandeWeghe, world record holding backstroker, his cousin Kiki (NBA Basketball All Star) and his cousin, Tauna, 1976 Olympic backstroker.  VandeWeghe was the first man under a minute in the 100 yard backstroke, a milestone achievement he attained while still in high school.  He set a world short course record at 59.41 on February 18, 1939.  This was one of six world backstroke records he set between 1934 and 1939, mostly while at Princeton University.  He also had nine American backstroke records and three American medley relay records while teamed with Dick Hough (Hall of Fame breaststroker) and Hank Van Oss (freestyler).  This trio won three AAU Nationals and three NCAA crowns with Parks substituting for Van Oss in one of the AAU Championships.  Al VandeWeghe won a total of five nationals in backstroke.  He was undefeated in college swimming and finished second to the all-time backstroke legend Adolph Kiefer in the 1936 Berlin Olympics.  Besides being the first man under a minute, for one milestone achievement, Al has a second when he introduced the revolutionary VandeWeghe-Vogt backstroke flip turn at the AAU Nationals in 1934.  Among his many honors at Patterson High School, Hunn School and Princeton University, he was the selection as New Jersey's top Amateur Athlete in 1936.  He was also voted top New Jersey Collegiate Athlete in 1939 and Princeton's Outstanding scholar athlete in 1940.  His international experience limited by the depression, extended only to the USA-Japan dual meet and an all victorious trip to Poland after the 1936 Olympics in Berlin.