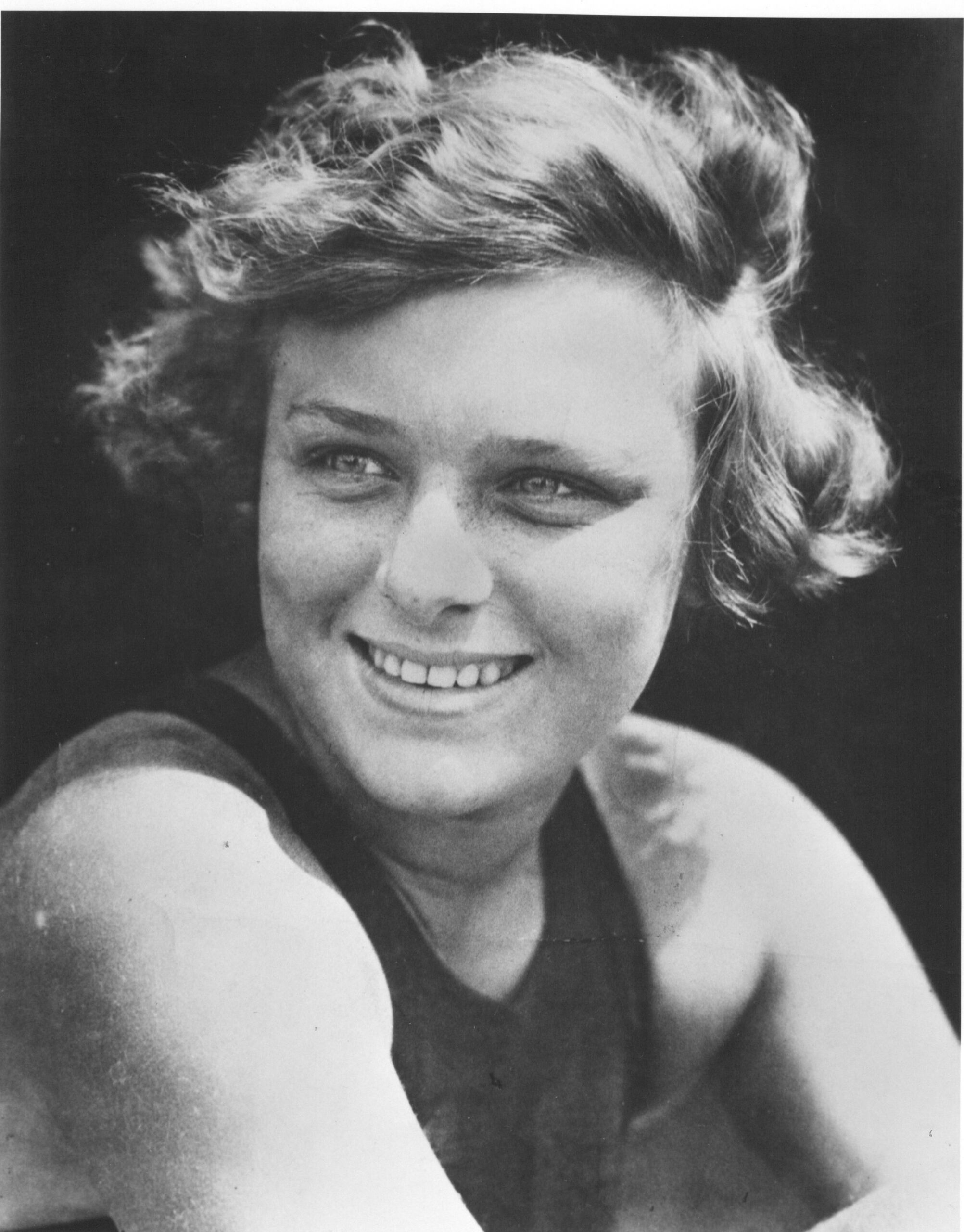 Aileen Riggin Soule (USA)
Honor Swimmer (1967)
The information on this page was written the year of their induction.

FOR THE RECORD: OLYMPIC GAMES: 1920 gold (3m springboard), 5th (platform); 1924 silver (3m springboard), bronze (100m backstroke); NATIONAL AAU CHAMPIONSHIPS: 3 outdoor, 1 indoor (springboard; 400yd, 800m freestyle relay); turned pro in 1926, touring the world.
The youngest U.S. Olympic champion, the tiniest anywhere Olympic champion and the first women's Olympic springboard diving champion is Aileen Riggin. All these honors were won in the 1920 Olympics by Miss Riggin when she had just passed her 14th birthday. The picture of her beside the N.Y.A.C. shotput champion as the "littlest and biggest Olympians" is a classic.
The question after a 14 year-old has this record should be, "but what could she do for an encore?" She did it. In the 1928 Olympics an 18 year old Miss Riggin was more rounded, was and is the only girl in Olympic history to win medals in both diving and swimming (silver in 3 meter springboard and bronze in 100 meter backstroke). Nor were all of Miss Riggin's Olympian feats in Olympics. She was high point woman (swimming and diving) in the U.S. National AAU Championship, won three outdoor, one indoor, national springboard titles, was part of two national 800 meter and one 400 yd. freestyle relay team winners for W.S.A., the New York club celebrating its 50th Anniversary this year, with Aileen Riggin a 1917 charter member. Her relay teammates Hall of Famer Gertrude Ederle, Helen Wainwright, Ethel McGary, Doris O'Mara, Charlotte Boyle, Sybil Bauer and another great diver-swimmer Helen Meany. She made the first underwater and the first slow-motion swimming and diving films for Grantland Rice in 1922 and 1923.
If no woman started earlier as an amateur champion, certainly no woman pro stayed on the top longer. Aileen Riggin turned pro in 1926, played the Hippodrome 3 weeks, and toured with Ederle 6 months after her Channel swim. She toured the world in 1930, including the Swedish World's Fair, worked steadily, including many Hollywood pictures, helped interview, organize and coach Billy Rose's first Aquacade in which she also starred, at the 1937 Cleveland Exposition. Her articles appeared in Colliers, Good Housekeeping and other national magazines.
Aileen Riggin, still petite at 61, is now Mrs. Howard Soule, living in Honolulu. No girl athlete in U.S. history has captured the hearts of her country so completely as she did in 1920.