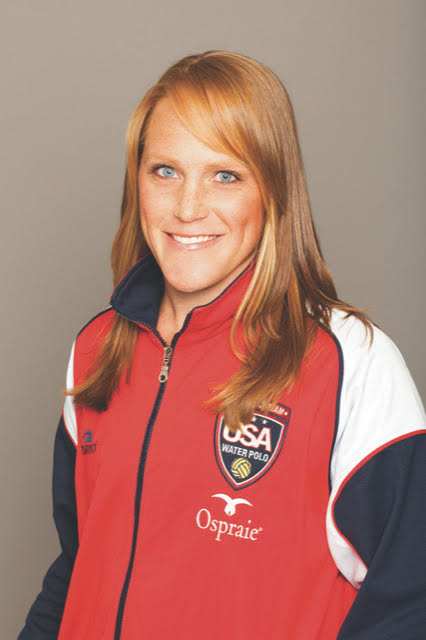 Heather Petri  (USA)
Honor Water Polo (2023)
The information on this page was written the year of their induction.
FOR THE RECORD: 2012 OLYMPIC GAMES: gold; 2008 OLYMPIC GAMES: silver; 2004 OLYMPIC GAMES: bronze; 2000 OLYMPIC GAMES: silver; 2009 WORLD CHAMPIONSHIPS: gold; 2007 WORLD CHAMPIONSHIPS: gold; 2005 WORLD CHAMPIONSHIPS: silver; 2003 WORLD CHAMPIONSHIPS: gold; 2002 WORLD CUP TITLE: silver; 2011 FINA WOMEN'S WORLD LEAGUE SUPER FINAL: gold; 2009 FINA WOMEN'S WATER POLO WORLD LEAGUE SUPER FINAL: gold; 2010 FINA WOMEN'S WATER POLO WORLD LEAGUE SUPER FINAL: gold; 2011 PAN AMERICAN GAMES: gold; 2007 PAN AMERICAN GAMES: gold; 2003 PAN AMERICAN GAMES: gold; TIED WITH BRENDA VILLA FOR MOST OLYMPIC MEDALS WON IN WOMEN'S WATER POLO (4).
In the quiet town of Orinda, nestled in the heart of Northern California, Heather Petri's remarkable Olympic journey began. Despite its small size, Orinda was a hotbed for aquatic sports. Summer was synonymous with swimming, and it was during this time that Heather would forge her path. Among the young talents was Heather, who discovered her love for water at a young age.
At 14, Heather was a dedicated swimmer and a curious observer of her male friends playing water polo. But no opportunity existed for girls to join. A chance encounter with a supportive mother changed everything ~ with the boys' encouragement and the coach's approval, Heather found herself breaking barriers and joining the boys' water polo team.
"Playing alongside the boys was an empowering experience. They became my mentors," and she fell deeper in love with water polo. Heather's trailblazing spirit inspired other girls to fight for their place in the sport. Through determination, the girls formed their own team, igniting a movement that would transform women's water polo in Northern California.
Heather's journey was further propelled by the groundbreaking Title IX legislation, granting equal opportunities to female athletes. This new era aligned perfectly with Heather's aspirations. Universities began to establish women's water polo teams, leading to greater opportunities and a brighter future for the sport.
Guided by her coach, Peter Asch, and encountering legends like Maureen O'Toole, Heather's dreams grew, as she witnessed the growth of the sport on a global stage. The looming Olympics added fuel to her fire. She'd go on to become an international star, making history in the Olympic Games.
She started training with some of her heroes and said that she never thought she would be a part of a national team, let alone of the Olympic journey.
Her first official international trip was in a 2000 pre-Olympic Games Qualification Tournament in Greece for the main event. It was the start of an incredible, successful journey for Heather as she progressed to international stardom in a 12-year career that saw her, along with inductee Brenda Villa, become the first women to win medals at four Olympic Games.
In Sydney 2000, the first Games that saw women play water polo in Olympic competition, Heather and Team USA, reached the gold medal match only to come down to the last minute, where the home team, Australia, scored a game winner at the buzzer. Still, the Americans and Petri came away with a silver medal at the very first Olympic Games.
Petri, with her USA teammates, captured three World Championship titles and Worlds silver medal, a World Cup silver, three World League titles and three Pan American Games golds. The Olympic Games gold medal remained out of reach at least for the next two Games, with a bronze in Athens and another silver in 2008, Beijing. However, in 2012, Petri, along with Brenda Villa, who was the only teammate with her since Sydney, finally brought home the gold for the USA with an 8 to 5 victory over Spain.
Upon retiring from international sport, Heather moved back to Northern California and took some time to give back to communities she felt passionate about — giving talks to youth in schools, teaching clinics and supporting local and global charities, attending Swim Across America events all over the USA in the fight against cancer. She is thriving at the University of California — Berkeley, working along another teammate, Head Coach Coralie Simmons, continuing to shape the future of water polo while honoring her remarkable journey from a small town to international acclaim. Heather's journey embodies the power of determination, resilience, and the unbreakable spirit of a true champion.