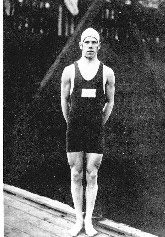 Eric Adlerz (SWE)
Honor Pioneer Diver (1986)
The information on this page was written the year of their induction.
FOR THE RECORD: OLYMPIC GAMES: 1912 gold (high diving); 1920 silver (platform); 1924 4th (platform).
Eric Adlerz was an outstanding diver in three Olympics.
He won the high diving gold medal in Stockholm (1912) and the silver at Antwerp in 1920 of the platform. In his third Olympics, he placed fourth off the platform at the Paris Olympic Games in 1924.