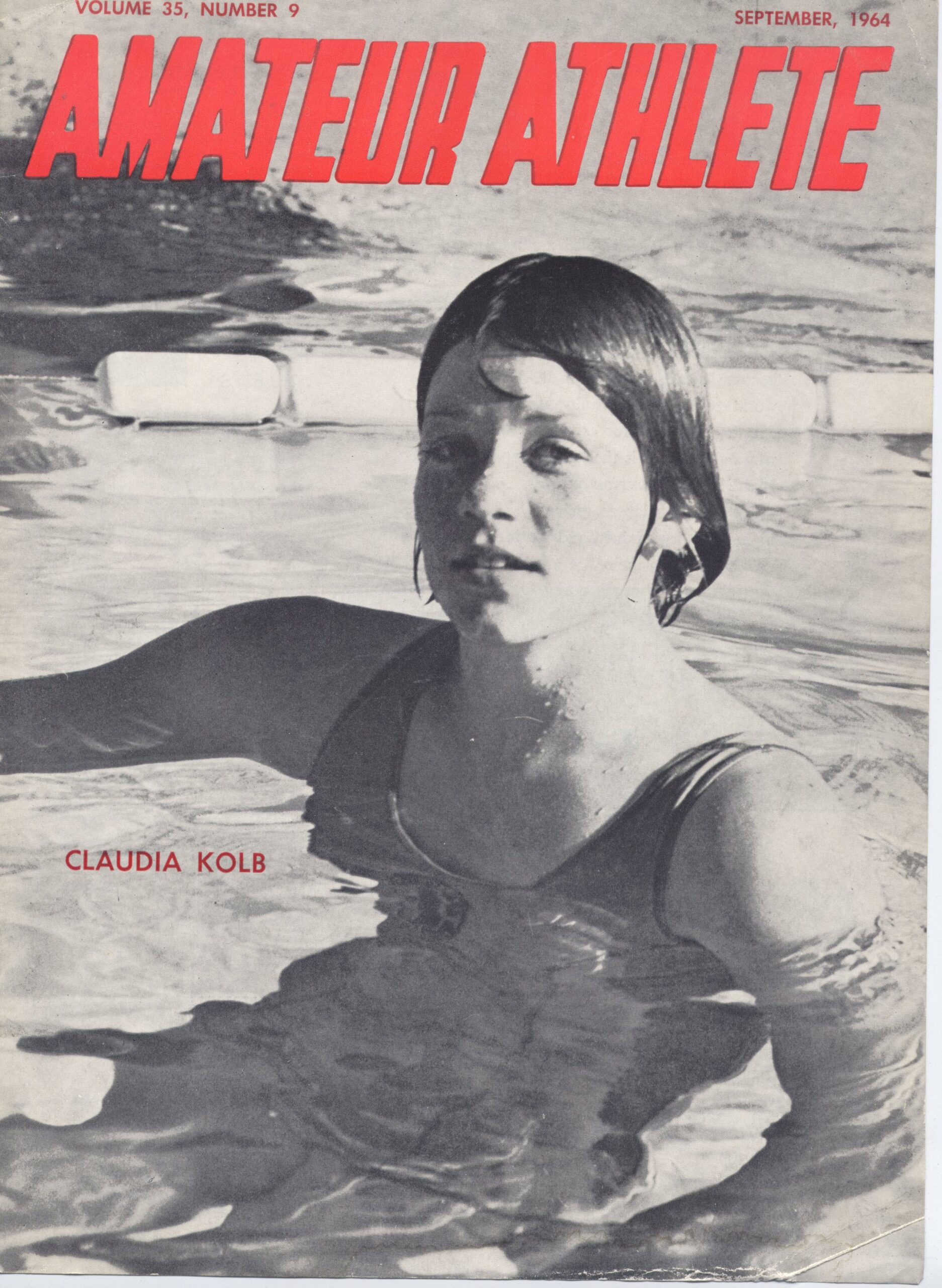 Claudia Kolb (USA)
Honor Swimmer (1975)
The information on this page was written the year of their induction.
FOR THE RECORD: OLYMPIC GAMES: 1964 silver (200m breaststroke); 1968 gold (200m, 400m breaststroke; 200m individual medley); WORLD RECORDS: 23; PAN AMERICAN GAMES: 1967 gold (200m butterfly; 200m, 400m individual medley), silver (200m breaststroke); U.S. NATIONAL OUTDOOR CHAMPIONSHIPS: 1964, 1965 (100m, 200m breaststroke); 1965, 1966, 1967, 1968 (200m individual medley); 1966, 1967 (400m individual medley); U.S. NATIONAL AAU CHAMPIONSHIPS: 25; "World Swimmer of the Year": 1967.
1964-1968 Olympian Claudia Kolb swam all strokes individually and collectively better than any swimmer of her time and was further ahead of her competition in the individual medley (13.7 seconds in the 1968 Olympics) than any swimmer in recent years. Four different times she was high-point girl at the U.S. Nationals.
At 14, swimming the 200m breaststroke, Claudia, a freckle-faced kid from California, won an unexpected silver medal in the 1964 Olympics. It was a courageous effort, for she had qualified for the final only as fifth best. With 25 meters to go she was in fourth place. Suddenly Claudia abandoned all caution, put her head down and sprinted like mad for 10 meters to swim into second place (2:47.6) splitting the mighty Russian pair Prozumenschikova (2:46.4) and Babanina (2:48.6).
Four years later, at the Mexico Games, Claudia was the best in the world for the individual medley and she won the 200m and 400m gold medals with almost contemptuous ease – the former (2:24.7) by 4.1 from her teammate Sue Pedersen and the latter by a huge 13.7 from another American, Lynn Vidali.
She was the first holder of the world record for 200m medley with her 2:27.8 on August 21, 1966. Two years and several world records later, she had brought her time down to 2:23.5. She broke the 400m world record four times, taking it from 5:11.7 in July 1967 to 5:04.7 in August 1968. At the 1967 Pan American Games in Winnepeg she won the 200m butterfly, was second in the 200m breaststroke and set world records in both the 200m and 400m individual medleys.
Claudia, from the George Haines stable at Santa Clara, twice (1964,'65) won the United States outdoor 100m and 200m breaststroke titles (best winning times 1:17.1 and 2:48.6 in dead-heating with Cynthia Goyette in 1965). She won the 200m medley four times (1965-68) and the 400m medley twice (1966-67). Claudia won 25 U.S. National AAU Championships and set 23 world records during her remarkable 6-year career. In 1967 she was named "World Swimmer of the Year" by Swimming World magazine.