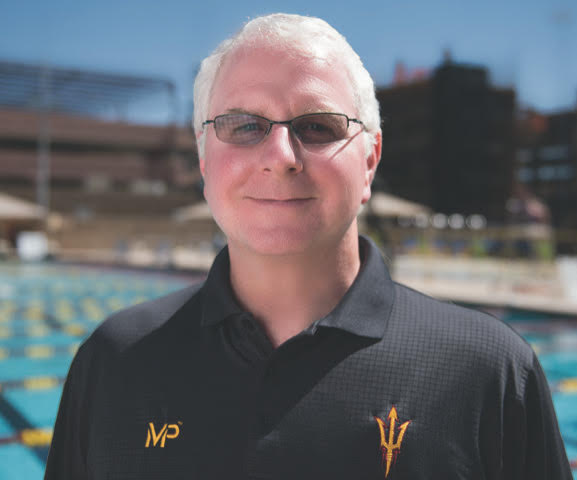 Bob Bowman (USA)
Honor Coach (2023)
The information on this page was written the year of their induction.
FOR THE RECORD: Coach of MICHAEL PHELPS, the most decorated Olympian of all-time; FIVE-TIME OLYMPIC COACH: 2016 OLYMPIC GAMES: USA Men's Head Coach; 2020, 2012, 2008, 2004, 2000 Olympic Games: USA Assistant Coach; 2023, 2013, 2009, 2007 WORLD AQUATICS WORLD CHAMPIONSHIPS: USA Head Coach; 2011, 2005, 2003, 2001 FINA WORLD CHAMPIONSHIPS: USA Assistant Coach; Six-time USA SWIMMING COACH OF THE YEAR; Five-time ASCA COACH OF THE YEAR; ARIZONA STATE UNIVERSITY: Head Men and Women's Coach (2015-present); first PAC-12 Men's Team Championship in school's history (2023), Runner-up finish at 2023 Men's NCAA Championships (2023); UNIVERSITY OF MICHIGAN: Head Men's Coach (2004-2008); Two-time Big-Ten Conference Coach of the Year, 2008 Big Ten Conference Team Title; Served as CEO/Head Coach at the NORTH BALTIMORE AQUATIC CLUB (2008-2015); Coach to dozens of athletes who qualified for Olympic, world and international competition, including Allison Schmitt, Chase Kalisz, and more recently, French superstar, Leon Marchand; 2010 ASCA Hall of Fame Inductee.
A championship butterflyer from South Carolina, Bob Bowman decided to attend Florida State University and eventually served as a student-coach, before assisting the team in 1986 and 1987. He also coached the Area Tallahassee Aquatic Club. Who knew at the time, in the Florida panhandle, that this FSU graduate with a major in developmental psychology and a minor in music composition would turn out to be one of the most successful coaches in the sport of swimming?
After Tallahassee, Bowman moved on to coaching positions with the Las Vegas Gold swim team (1988-1990), the Cincinnati Pepsi Marlins (1990-91) and the Napa Valley Swim Team (1991-1992). Next, Bowman moved on to the Birmingham Swim League (BSL), where he acted as head coach, as well as program director. He was responsible for the daily operation of a 250-member swim club, which included program design, development of staff and the daily oversight of the club. Under his guidance, BSL finished substantially higher than it had in the previous 10 years. He returned to Napa Valley to coach for another stint (1994-1996) and eventually landed at the North Baltimore Aquatic Club (NBAC) in 1996, where he would begin his next chapter.
At NBAC, Bowman produced three individual national champions, 10 national finalists and five USA National Team members. For his efforts, Bowman was recognized in 2001 and 2003 as USA's Coach of the Year, and as its Developmental Coach of the Year in 2002.
During his nine-year tenure at NBAC, Bowman began coaching a youngster by the name of Michael Phelps. Although Michael was only 11 years old, Bowman already recognized his pupil's considerable talent. Under Bowman's tutelage, Phelps won five world championship titles and was named American Swimmer of the Year in 2001 and 2003.
Bowman was named to the 2004 U.S. Olympic Team staff and at the Athens Games, where he coached Phelps to eight medals, which included six gold and two bronze. Four years later, in 2008, he coached Phelps into the history books, as Phelps broke Mark Spitz's longstanding Olympic record of seven gold medals by winning eight in Beijing. Seven world records only enhanced the effort.
Between the 2004-2008 Olympic Games, Bowman served as the head coach of the University of Michigan in Ann Arbor, a stint which included a quartet of top-10 finishes at the NCAA Championships and a Big Ten Conference crown.
After the Beijing Games, Bowman returned to NBAC in the Fall of 2008 as head coach and CEO of the club.
Bowman has written a best-selling book, "The Golden Rules: 10 Steps to World Class Excellence in Your Life and Work." He is a five-time Olympic coach, serving as the United States men's head coach at the 2016 Games in Rio de Janeiro. He has also served as a Team USA staff member at multiple World Championships, including the head-coaching role at this past summer's edition in Fukuoka, Japan.
In 2015, Bowman accepted the challenge of leading the men's and women's programs at Arizona State University. At Arizona State, Bowman has revitalized a program that was once tapped for elimination and was a Pac-12 Conference doormat upon his arrival. Through constant building and belief, Bowman led the Sun Devils to a third-place finish at the 2022 NCAA Men's Championships and a runner-up showing at the 2023 NCAA Champs. His most recent season also included a conference championship, the first in program history.
Among those Bowman has mentored include Olympic champions Allison Schmitt and Chase Kalisz. Most recently, through his work at Arizona State, he has guided the careers of France's Leon Marchand and Hungary's Hubert Kos to world-championship status.
For all his successes, Bob Bowman will most definitely be remembered for his most famous masterpiece, sculpting the career of the greatest swimmer to ever move through the pool, 28-time Olympic medalist, Michael Phelps.