Honor Swimmer Teofilo Yldefonso was born on this day in 1902….Today we celebrate his achievements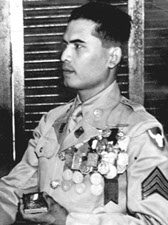 ---
                Teofilo Yldefonso (PHI)  2010 Honor Pioneer Swimmer
FOR THE RECORD: 1928 OLYMPIC GAMES: bronze (200m breast-stroke); 1932 OLYMPIC GAMES: bronze (200m breaststroke); 1936 OLYMPIC GAMES: Competitor (200m breaststroke); 1923, 1927, 1930, 1934 FAR EASTERN GAMES: gold (200m breaststroke); 1929, 1931, 1933, 1935, 1937 PHILIPPINES VS FORMOSA DUAL MEETS: gold (200m breaststroke); ONLY PHILIPPINE ATHLETE TO WIN BACK-TO-BACK OLYMPIC MEDALS AT TWO OLYMPIC GAMES
Born 1902 in Piddig, Philippines, Teofilo learned to swim by teaching himself in the knee-deep Guisit River near his home. Orphaned at an early age, he and his brothers practically raised themselves. He swam every day in the river and would help the women cross the river and carry the clothes to wash.
Around 1920, he enlisted in the 57th Infantry Regiment of the Philippine Scouts made up of native Filipinos assigned to the U.S. Army's Philippine Department under the command of American officers. It was an honor and privilege to be in the Scouts and sports was an important element to instill exercise, loyalty and pride. As a young soldier, Teofilo gained prominence as a competitive swimmer and swam at various meets in the Region. At the Far Eastern Games of 1923, 1927, 1930, and 1934, he was a standout breaststroke swimmer beating Japan's Hall of Famers Yoshi Tsuruta, Reizo Koike and others. He was invincible at five Philippines vs. Formosa Dual Meets between 1929 and 1937. He competed in the 1928 and 1932 Olympic Games winning the 200m breaststroke bronze medal at both Games. He is the first Philippine athlete to win an Olympic medal but also the only athlete to date to win back-to-back Olympic medals from his country.
Teofilo Yldefonso had transformed the breaststroke style of his time by bringing the stroke more to the surface of the water rather than under the water as was more common at that time. European textbooks called him "The Father of the Modern Breaststroke". Still with no coach but training in the river as well as at military installation swimming pools, he competed in his third Olympics in 1936 Berlin placing 7th in the final of the 200m breaststroke. He was already a family man with four children.
When World War II broke out and Bataan fell to the Japanese in 1942, he was among thousands of Filipino and American soldiers who experienced the infamous Death March to Capas where, at age 39, he died at the Concentration Camp in the arms of his younger brother, Teodoro, a medical corps worker. Interestingly, Yldefonso rose to the rank of lieutenant as did his swimming rival and friend of many years, Yoshi Tsuruta, then an officer in the Japanese army. Upon hearing that Lt. Yldefonso was among the prisoners, Lt. Tsuruta called for his release, but unfortunately too late. It is believed that Yldefonso received word of the release but refused to leave his men.
His legacy as a championship swimmer and war hero will live on forever. A monument of Swimmer/Lieutenant Yldefonso was unveiled in 2006 in the Piddig Municipal Plaza of his hometown.