Honor Swimmer Frank McKinney, Jr. was born on this day in 1938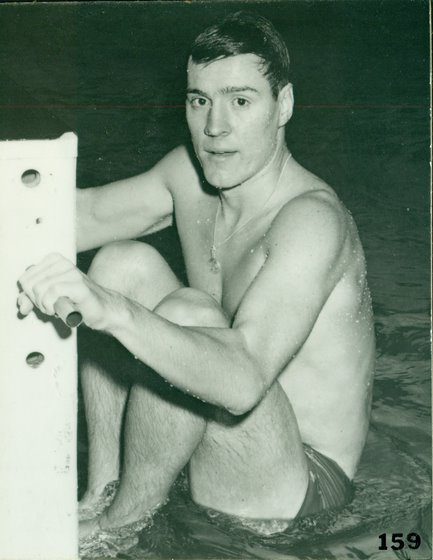 ---
 FRANK MCKINNEY (USA) 1975 Honor Swimmer
FOR THE RECORD:  OLYMPIC GAMES: 1956 bronze (100m backstroke); 1960 gold (400m medley relay), silver 100m backstroke); PAN AMERICAN GAMES: 1955, 1959 gold (100m backstroke; medley relay); NATIONAL AAU CHAMPIONSHIPS: 14; BIG-TEN Gold medals: 9; NCAA CHAMPIONSHIP Titles: 2.
The American swimmer who did the most to introduce modern backstroke techniques is Frank McKinney.  Following Yoshi Oyakawa as premier U.S. backstroker, McKinney was the pioneer of the modern bent-arm backstrokers, even as Oyakawa had been the last of the straight-arm school.  McKinney was the leader of a remarkable group of teenagers who won the U.S. Nationals for the Indianapolis Athletic Club while the boys were still in high school.  If they had been a musical group, national champions McKinney, Mike Troy, Bill Barton, Bill Cass and Allan Sommers would have been known as "The Jim Clark 5".  Later when they all swam under another great coach, Doc Counsilman, McKinney was the captain of Indiana University's first Big Ten Champions.  Films shot by Counsilman of McKinney's bent-arm had a profound influence on modern bent-arm backstroke.
Frank McKinney at 16, won the Pan American Games 100m backstroke in 1955 at Mexico City and was the youngest member of the American World Record Medley Relay Team.  He repeated these two Pan American gold medals in Chicago in 1959 and both years he was elected to go to Japan for the Japanese-American dual meet.
McKinney won 14 National AAU Championships, 9 Big-Ten gold medals and 2 NCAA titles.  Twice in 1956 he held the 200m backstroke world record and twice in 1960 he held down his 1/4 of the 400m medley relay world record.  In the big ones, the 1956 Melbourne Olympics and the 1960 Rome Olympics, Frank McKinney raced to the hat trick winning all 3 Olympic medals, bronze (1956 – 100m backstroke), silver (1960 – 100m backstroke) and gold (1960 – 400m medley relay).
Frank McKinney a member of the Helms Hall of Fame, was voted 1956 Outstanding U.S Male Athlete in Aquatics by both the Los Angeles Times and the Columbus Touchdown Club.  Hanging up his suit in 1960, McKinney, began his transition from national and Olympic gold medals to the coin of the realm.  After two years as an officer in U.S. Army Intelligence, he became a banker and quickly advanced from Assistant Cashier of the First National Bank of Chicago in 1966 to Vice President, then President and Chairman of the Board of the American Fletcher National Bank in Indianapolis.  Jim Counsilman and the late Jim Clark were proud of Frank McKinney, not only for his Hall of Fame swimming achievement but for all he has done since.