Honor Swim Coach Eddie Reese: The End of an Era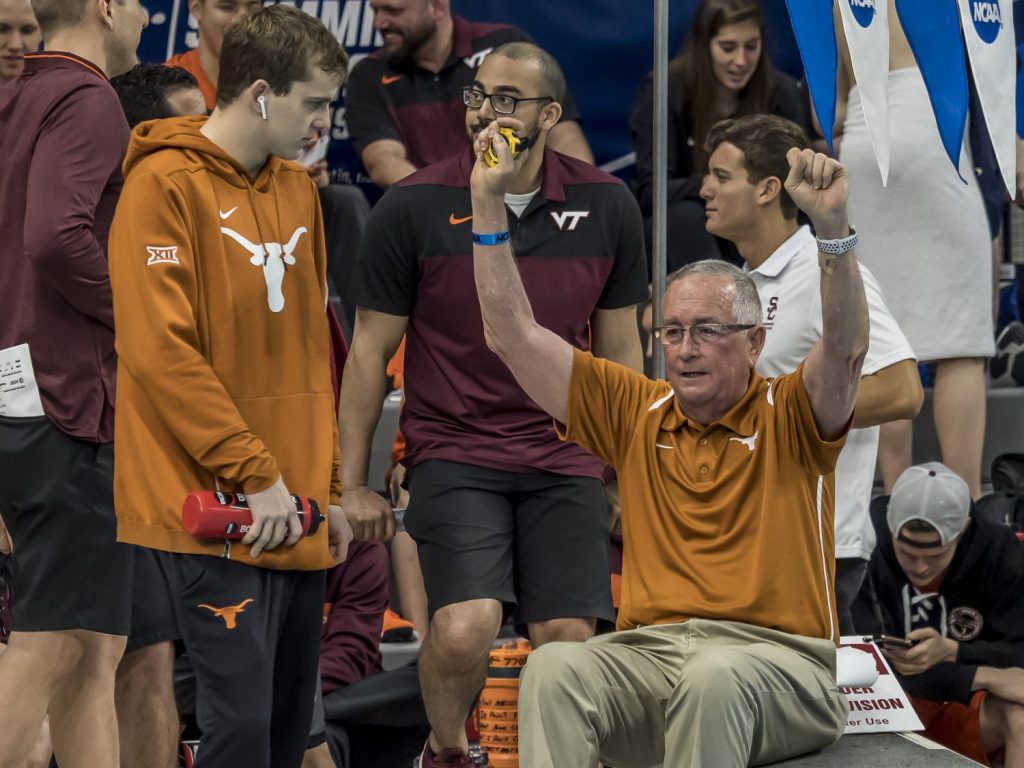 ---
29 March 2021, 01:08pm
Commentary: Eddie Reese Era Ended On a High Note; His Legacy Measures Far Beyond Title Banners
Just two days after guiding the University of Texas to its 15th NCAA title, legendary coach Eddie Reese announced on Monday that he is retirng as coach of the Longhorns after 43 years at the helm in Austin. The following commentary was written by Swimming World's Dan D'Addona following Texas' latest championship march.
Eddie Reese won his first NCAA title as Texas swimming coach 40 years ago. Fittingly, on the 40th anniversary of that premier championship, the Longhorns won again. He led the Longhorns to plenty in between, too, with the 2021 title the 15th for Texas and for Reese in those 43 seasons, who has now led the Longhorns to a title in five different decades.
Fifteen titles is more than any other coach or program in history, which cements Reese's legacy as the greatest college swimming coach of all time.
But his legacy isn't necessarily the championships, but the non-championship seasons.
Reese has coached 43 years. In addition to the 15 NCAA titles, his Texas teams have been runnerup 12 times and third place seven times. The Longhorns have been in the top 10 in the nation for a stunning 40 consecutive seasons and have won 41 consecutive conference championships.
That means in 43 seasons, 27 of them have seen a top-two finish and 34 top-three finishes. The Longhorns have won 140 event titles during that span.
It is simply a dynasty.
"Simply put, Eddie Reese is the greatest coach of all time," Texas' Carson Foster said. "If it was ever debated before, it is over now. You can't argue with 15 national championships in five different decades. He and all of our assistants do an incredible job with recruiting, but also developing, and they have created such a culture with the team where there is not a single person who is complacent with anything but a championship, and that is the culture from day one. We don't accept anything less. Forty years after he won his first, he won his 15th and that is beyond special for all of us and the Texas alum."
The 2021 season was a special one for many reasons. The Longhorns endured the pandemic virtually unscathed and took back their title after Cal broke their four-peat streak in 2019.
"Every one of them are different because of the makeup of your team and every one of them has to go through different things. These guys have been through the COVID year and that freeze in Austin. There is something special to overcome every year and this group, they went the whole school year with no positive COVID-19 tests," Eddie Reese said after the meet.
It was also special because all 20 swimmers and all four divers who competed at the championships scored at least one point, meaning the entire team had a hand in the title. It was a meet won by depth as the Longhorns won a diving event, two relays but no individual swimming races, the first time that has happened for a title seam since 2006.
"Something really special about Eddie is he doesn't really view us as athletes or point scorers. He views us all as human beings and wants what is best for us as human beings, and that is how it has always been. He always cares even during the hard practices. It makes you see the value in yourself and makes everybody want to be the best," Drew Kibler said. "The culture makes you want to work and where you can take these roads. Eddie has a different way of going about these things and he is just such a phenomenal man."
And the greatest coach in the history of college swimming.