Hitomi Matsuda To Be Inducted Into International Masters Swimming Hall of Fame
---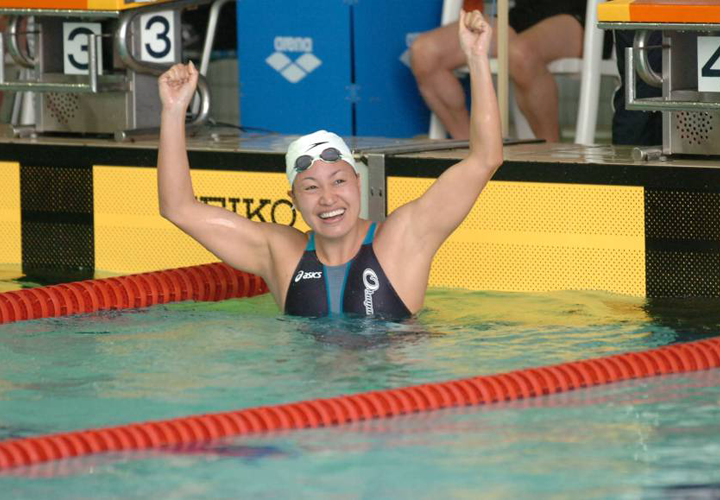 The International Masters Swimming Hall of Fame (IMSHOF) is proud to announce that HitomiMatsuda,  will be inducted into the International Masters Swimming Hall of Fame as a member of the Class of 2018 during the IMSHOF Induction ceremonies in Jacksonville, Florida, Friday evening, September 28, 2018.
The induction will be held in conjunction with the United States Aquatic Sports convention.
In the early '90s, Hitomi Maehara Matsuda was known as one the top young stars in Japan's swimming program. She joined the national team in 1992 and at the 1993 FINA Short Course World Championships, Matsuda took silver in the 200m Breast and also placed 4th in the 200m IM . But after not getting elected for Japan's 1996 Olympic team, she retired at the age of 19.
Matsuda returned to competitive swimming in 2003 because she realized how much she loved and missed it. This time, however, it was as a Masters swimmer.
Since 2004, Matsuda has been in the Top Ten every one of the 14 years she has competed. She has set 35 long course and 45 short course FINA Masters World Records in the I.M., freestyle, butterfly and breaststroke. In world rankings since 2004, she has a total of 176- number 1, 55- number 2 and 17- number 3 total world rankings in the I.M., freestyle, butterfly, backstroke and breaststroke.
In an April 2013 feature, Swimming World Magazine named the Tokyo native one of the Top 12 World Masters Swimmers of the Year for 2012. The article noted that she had been a regular on the list (as a winner or runner-up) since 2005, missing out just once.
While competing in the 2014 (Barcelona) and 2017 (Budapest) FINA Masters World Championships, Matsuda brought home six gold medals and one silver. Over the years, she has garnered 80 FINA masters world records in the four different age groups, 25-29, 30-34, 35-39 and 40-44 age groups.
Matsuda believes that Masters Swimming has many benefits. It keeps you healthy and it allows you to make new friendships, as well as keep in touch with many old friends in the swimming world. " In 2014, at the FINA Masters World Championships, I met again many old friends and made many new friends.
Matsuda will be inducted as part of a group of nine (9) outstanding individuals will be inducted at the IMSHOF's annual ceremony. The event will be held at the Hyatt Regency Jacksonville Riverfront in conjunction with the 2018 United States Aquatic Sports XXXVIX Convention.
The prestigious IMSHOF class of 2018 includes four swimmers, two divers, one synchronized swimmer, one water polo player and one contributor, from five (5) different countries: the USA, Austria, Germany, Brazil and Japan:
SWIMMER INDUCTEES: MAURINE KORNFELD (USA), HITOMI MATSUDA (JPN), MARCUS MATTIOLI (BRA), JURGEN SCHMIDT (USA),

DIVER INDUCTEES: MARY BENNETT (USA), IRMTRAUD BOHN (AUT)

SYNCHRONIZED SWIMMER INDUCTEE: BETH CAREY (USA),

WATER POLO PLAYER INDUCTEE: WOLF-RÜDIGER SCHULZ (GER)

CONTRIBUTOR INDUCTEE: WALT REID (USA)
In addition to honoring the IMSHOF Honorees, ISHOF will be recognizing Swimming World Magazine's Top Ten Masters Swimmers from 2017.
Swimming World Magazine's Top Twelve Masters Swimmers for 2017 are: Men – Rick Colella (USA), Sergey Geybel (RUS), Nicolas Granger (FRA), Karl Hauter (GER), Willard Lamb (USA), and Darian Townsend (USA); Women – Noriko Inada (USA), Maurine Kornfeld (USA), Betty Lorenzi (USA), Karlyn Pipes (USA), Diann Uustal (USA), and Laura Val (USA).
The event is open to the public and free of charge. Book Your Hotel
About IMSHOF
The purpose of the IMSHOF is to promote a healthy lifestyle, lifelong fitness and participation in adult aquatic programs by recognizing the achievements of individuals who serve as an example for others. To be considered, honorees must have participated in Masters programs through at least four different masters age groups and are qualified by an objective point system based on world records, world top 10 rankings and World Championship performances. The IMSHOF is a division of the International Swimming Hall of Fame, in Fort Lauderdale, Florida. For more information, please visit: www.ishof.org
About ISHOF
The International Swimming Hall of Fame, Inc. (ISHOF), established in 1965, is a not-for-profit educational organization located in Fort Lauderdale, Florida, USA. Recognized by FINA, the International Olympic Committee's recognized governing body for the aquatic sports in 1968, its mission is to preserve the history of swimming, celebrate the heroes, promote the benefits and importance of swimming as a key to fitness, good health, quality of life, and the water safety of all children and adults, and connect older generations of swimmers to youth.
For more information, call Meg-Keller-Marvin at 570 584-4367 or e-mail: meg@ishof.org