Historic Day in Fort Lauderdale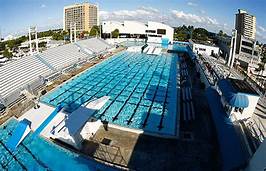 ---
HISTORIC DAY IN FORT LAUDERDALE
28 years ago on this date, August 13, 1991, two World Records fell at the International Swimming Hall of Fame Aquatic Complex. ISHOF was hosting the 1991 Phillips 66 Summer National Championships and both Martin Zubero and Mike Barrowman were competing.
Martin Zubero
Martin Zubero (ESP) of Pine Crest Swim Club, swam the 200 backstroke and shattered the world record, with a time of 1:57.30 set by Hall of Famer, by Igor Polyansky, in 1985 (1:58.14).
ISHOF Aquatic Complex Manager Stu Marvin recalls this from that day: "The head referee asked me to walk him back to the filtration room to take the pool pumps off-line in accordance to FINA rules, that say any world record must be accomplished in a still pool. I was surprised he wanted to follow and actually watch me do it."
Martin Zubero was inducted into the Swimming Hall of Fame in 2004 as an Honor Swimmer. He lives in Jacksonville with his family and is the Aquatic Director of the Episcopal School of Jacksonville.
Barrowman at his
1997 ISHOF Induction
The next world record came when Mike Barrowman swam the 200 meter breaststroke in a time of 2:10.60, breaking his own world record, which he set in January of the same year (2:11.23) in Perth at the FINA World Championships.
Mike Barrowman was inducted into the International Swimming Hall of Fame as an Honor Swimmer in 1997 and now lives in the Cayman Islands with his family.
The ISHOF Aquatic Complex has seen many other exciting world records fall. Including Mike and Martin's two at the Summer Nationals, there have been 10 set to date.
Natalie Coughlin at 2002 US Nationals
On this same date in 2002, new Mom and cookbook author, Ms. Natalie Coughlin, broke the world record in the 100 meter backstroke, also at the Hall of Fame aquatic complex.
Hall of Fame Aquatic Complex World Records:
Date set: Swimmer Event Time
December 26, 1966 Catie Ball 100 Breast 1:15.60
June 30, 1967 Pam Kruse 400 Free 4:36.80
August 3, 1975 Andy Coan 100 Free 51:01
August 16, 1979 Mary T. Meagher 200 Fly 2:08.41
August 16, 1979 Mary T. Meagher 200 Fly 2:07.01
August 19, 1979 Kim Linehan 1500 Free 16:04.49
August 13, 1991 Martin Zubero 200 Back 1:57.30
August 13, 1991 Mike Barrowman 200 Breast 2:10.60
August 13, 2002 Natalie Coughlin 100 Back 59.58
August 15, 2002 Michael Phelps 400 IM 4:11.09