Helene Madison – 90th Anniversary Of The Advent Of The 'Queen Of Waves'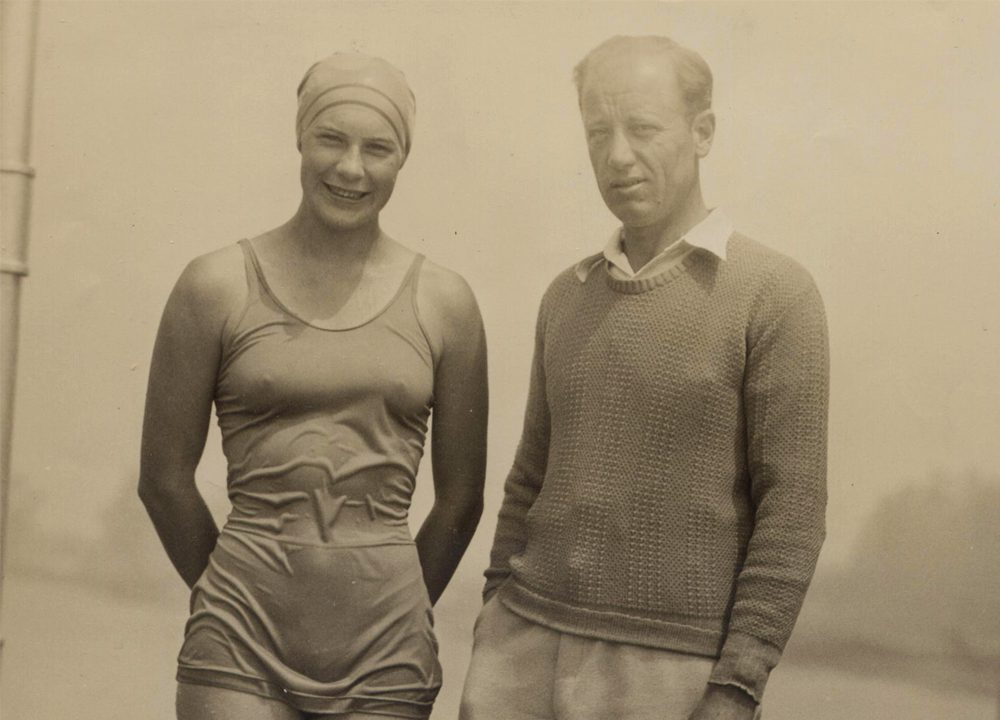 ---
Helen Madison with her Coach Ray Daughters, Photo Courtesy: ISHOF
06 July 2020, 12:10am
This year marks the 90th anniversary of the advent of Helene Madison as a dominant force in freestyle swimming. By the time the American was done racing, she had gone down in history as an Olympic and World-record pioneer who set 16 World records on freestyle in just 16 months. This day in 193o she claimed the global 880y (800m) standard
Helene Madison (USA) was dubbed "The Queen of Waves". Her pioneering achievements in the early 1930s live eternal: she was the first swimmer ever to hold every world freestyle record – from 100yd through to the mile – at the same time, a feat that has been matched only once since, by Shane Gould (AUS, 1971-1972).
Gould remains, technically, the first to ever be accepted as having held the official 100-1500m records simultaneously: Madison set the 880 yards world mark once in her career, in 1930, but the 800m distance was not an official world record until after the American's swim, while the distance was not swum in Olympic waters until 1968.
Remove FINA bureaucracy from the education and Madison, who set her first world mark in March 1930 and her last in August 1932, was the first queen of waves over 100-1500-mile speed. She clocked 11.41.2 over 880 yards on July 6, 1930 in Long Beach. On August 23, 1931, Yvonne Goddard of France clocked 12.18.8 over 800m and that was, technically, the first official FINA world record over the specific distance of 800m.
Madison, who passed away in 1970, would never know but in 1973, FINA revisited its world-record history lists, removed Goddard and a swim by American Lenore Kight, from 1933, and accepted Madison's mark as an official world 800m record. Not long before its decision on Madison, FINA had stopped accepting the 880 yards distance for world-record ratification over 800m, leaving Debbie Meyer, the pioneering 1968 triple Olympic gold medallist for the USA, as the last (and therefore, technically, reigning, world record holder over 880 yards, at 9.44.1 from a swim in 1967.
The official FINA lists suggest Madison established seven World freestyle records between 1930 and 1932 but the actual count was 16 in a period of just 16 months. The records including yards standards and distances official in those days but no longer counted: the 300y distance dropped in 1938, the 500m and 500y dropped in 1940 and 1942 respectively, the 1000y in 1938 and the 1000m in 1941; while the 1760y, mile, record passed into history in 1955.
The Madison Pantheon Of Pioneering Pace
100 yards: 60.8, 60.0sec
100m: 68.0; 66.6
220y: 2:35.0; 2:34.8
200m: 2;34.6
300y: 3:41.6; 3:39.0
300m: 3:59.5
440y: 5:39.4; 5:31.0
400m : 5:31.0 – Olympic Gold, Los Angeles, 1932
500y: 6:16.4
500m: 7:12.0
880y: 11:41.2
1000y: 13:23.6
1000m: 14:44.8
1500m: 23.17.2
1760y: 24.34.6
On March 6th, 10930, Madison broke the first of the seven World freestyle records she would break between 1930 and 32 that remain on the books of official FINA World standards.  Four years earlier, fellow American Martha Norelius had left the 200m freestyle standards at 2:40.6. Madison stopped the clock at 2:34.6 in St Augustine that March day.
A week later at Miami Beach, she crushed the 100m freestyle World record set at 1:09.4 by American Olympic champion of 1928, Albina Osipowich, with a 1:08.0. On April 20, 1931, in Boston, Madison's pioneering took the pace down to 1:06.6.
Over 400m, she stormed inside Norelius' mark of 5:39.2 from 1928 with a 5:31.0 effort in home, Green Lake, Seattle on February 3, 1931.  Local crowds flocked to see her that day. Later that year, she downed Norelius' 1500m free mark of 23:44.6 with a 23:27.2 global standard in New York.
The following year, on August 13, 1932, she set the last of her World record with a 5:28.5 for Olympic 400m gold in Los Angeles.
Madison, who hailed from what was once written up as "the tiny town" of Green Lake – a district of Seattle, with the lake at its heart – competed for the Washington Athletic Club in Seattle her entire career, the protégée of coach Ray Daughters.
Helene Madison, Queen Of Waves At Los Angeles 1932
At the 1932 Olympic Games in Los Angeles, Madison claimed three gold medals in the pool, over 100 and 400m freestyle and as a member of the 4x100m freestyle with USA teammates.
Her victory over 400m freestyle was the last of the three and produced a World record. She celebrated the moment by dancing with Clark Gable at The Coconut Grove, a haunt of the rich and famous of American society.
Here's how Madison's campaign panned out:
100m Freestyle – August 8, 1932
In 1929, Albina Osipowich, the 1928 Olympic champion, had set a world record of 1:09.4. A year later, Helene Madison, 17, moved the event on in a big way, with a 1:08.0, before lowering her own world record again in 1:06.6 at a 25-yard pool in Boston in 1931. In Honolulu the same year, she had also set a world-best time of 1:08.2 in a 50m pool. No-one else had come close. 
In the second Olympic heat in Los Angeles, 1928 bronze medallist Joyce Cooper lowered the Olympic record in 1:09.0, before Madison, 19, shaved 0.1sec off that in the third heat. In the next heat, Eleanor Saville (nee Garratti), second in 1928, improved the standard to 1:08.5.
In the semis, a shooting star called Wilhelmina den Ouden (NED), 14 years old, roared down the pool and set a world best time in a 50m pool of 1:07.6. Madison, 19, responded with a spectacular sprint down the first length of the second semi-final, in 29.2 that suggested a 1:04 was possible well before its time.
Madison faded to a 1:09.9 on the way home, scraping through in fifth place for the six-lane final. But having given warning of her potential for pioneering speed and having heaped pressure on the shoulders of 14-year-old Den Ouden, Madison delivered on promise in the final: in and Olympic record of 1:06.8, Madison claimed her first Olympic crown a second ahead of Den Ouden.
4x100m freestyle – August 12, 1932
Helene Madison was joined by Josephine McKim (who had swum in the heats in 1928), Helen Johns and Eleanor Saville (nee Garratti) Lenore Kight, for a world record relay victory of 4:38.0, almost 10 sec inside the 1928 world best time of the 1928 champion team from the US, which included Garratti. FINA recognised relays for official world-record status from 1932 onwards.
400m freestyle – August 13, 1932
In 1931, Helene Madison had clocked a world record of 5:31.0 in the 400m, 8.2sec inside the standard that had been set by 1924 and 1928 Olympic champion Martha Norelius (USA). Madison's best in a 50m pool before the 1932 Games was 5:39.4, set at Long Beach in 1930 and a league ahead of the world at the time. In the third heat at the Games, Lenore Kight (USA) set an Olympic record of 5:40.9.
At a time when third place in heats often meant that a swimmer would not progress to the semi-finals regardless of whether their time (as opposed to place) merited it, Marie Phillipsen (nee Braun, NED), 1928 100m backstroke champion and silver medallist in the 400m freestyle, lost out in 5:50.5. 
In the final, Madison and Knight raced stroke-for-stroke. At 200m, they split in 2:38.0, not far from the 2:34.5 at which Madison held the world record over 200m. Thin air could hardly split the two for the rest of the rest and at the wall, it was Madison who had the longer reach, taking the gold in 5:28.5, 0.1sec ahead of Kight and 4sec under her own world mark.
When The Racing Was Done
Helene Madison's homecoming to Seattle was something modern celebrations for Olympians can barely compete with. Greeted by the largest ticker-tape parade in Seattle history, she was idolised and lionised, feted and banqueted. With no challenges left in swimming, Madison turned "pro", endorsing cereals and – gasp! – Camel cigarettes.
She moved into films but was not a success. She applied for a job at Green Lake beach as a swim instructor but she came up against city rules that barred women from teaching swimming.
During the 1936 Games in Berlin, Madison could be found at Green Lake, serving at the hotdog stand. She was unlucky in love too: she married three times. Madison later became a Licensed Practical Nurse. Sadly, she contracted diabetes and throat cancer in her fifties. At 57, she passed away in the basement apartment she shared with her parakeet and a Siamese cat, across the street from her beloved Green Lake.
Coach Ray Daughters
In a 48-year career as a swimming coach (1916-64), Colorado-born and then lifelong Washington state resident Ray Daughters taught nearly 50,000 people how to swim. A swimmer himself, he earned the undying admiration of the aquatic world in the Pacific Northwest as well as the national stage, writes Michael J. Stott.
Daughters mentored five Olympic swimmers, who trained out of his home base, the Washington Athletic Club (WAC) in Seattle. Four were freestylers who competed during the 1930s:
• Helene Madison (1932, three gold, 17 world records)
• Jack Medica (1936, one gold and two silver, 11 world records)
• Olive McKean (1936, one bronze and a sixth-place finish)
• Mary Lou Petty (1936, one fourth-place finish)
His fifth Olympian, Nancy Ramey, also was a world record holder (butterfly) and won a silver medal in 1956, bringing his swimmers' Olympic medal total to eight.
Once described by Seattle Times sports editor Georg N. Myers as "a Svengali in a bow tie," Daughters was a "big man who was brusque and burdened by an unceremonious and indestructible sense of humor." He also had an eye for talent, preferring it over just native speed. Before he retired to become WAC athletic director exclusively, Daughters worked closely with each swimmer, setting their practice hours and competitions. He emphasized conditioning, timing and rhythm, working meticulously during long practices to refine swimmers' strokes. He also advised on dietary habits and insisted on 10 hours sleep a night, knowing his athletes were going to bed exhausted.
His methods produced results, earning swimmers at least 30 world and 301 American records as well as 74 national championships. Daughters liked to win, and he was not above scheduling swim meets to have his swimmers break national records. For instance, on Nov. 7, 1931, he conducted a meet specifically so that Madison could go for American records at 600, 700, 800 and 880 yards, while Medica aimed at the Northwest 220-yard standard.