Happy Birthday Tom Gompf !!!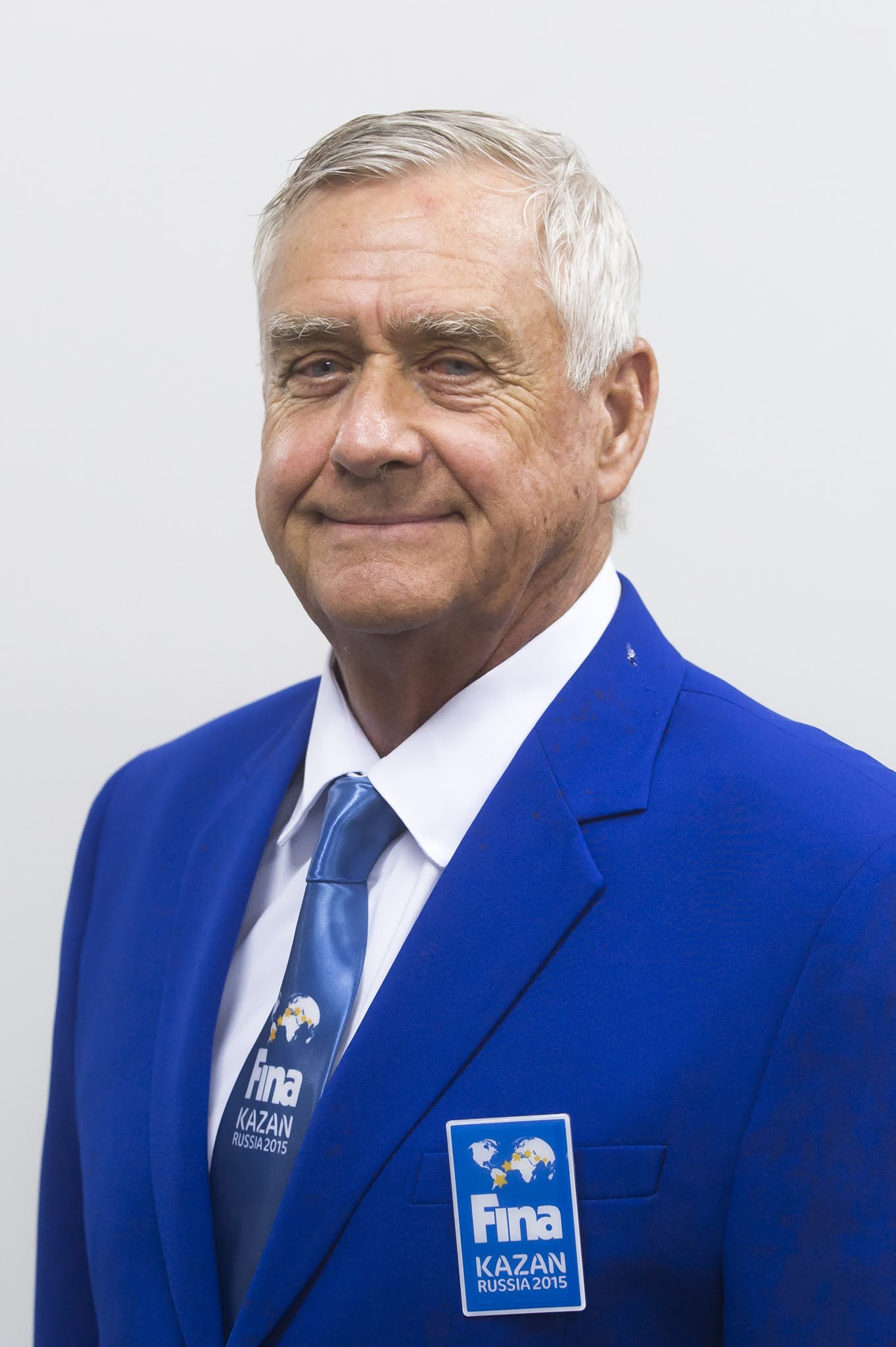 ---
TOM GOMPF (USA) 2002 Honor Contributor
FOR THE RECORD: 1964 Olympic Games: bronze (10m platform); 3 National AAU Championships: (trampoline-1, 10m platform-2); 4 Foreign National Championships: Japan (3), Spain (1); 2 World Professional High Dive Championships; 11 years Diving Coach: University of Miami (FL) (1971-82); 1976, 1984 U.S. Olympic Diving Team: Coach/Manager; U.S. Olympic Committee Executive Board of Directors: Member (1977-2000); 1984-2004 FINA Technical Diving Committee: Chairman (1988-2000); U.S. Diving, Inc.: President (1985-90); U.S. Aquatic Sports: President (1999-present); Executive Board of Amateur Swimming Union of the Americas: member (1999-present).
Tom Gompf loves all aspects of diving; always has, always will. He started as a young local competitor, advanced to the Olympic Games, performed in professional competition and grew to serve the international diving community as an administrative leader. He is a hard worker for the good of the sport and a friend to all. Gompf has had a profound international influence on the sport of diving.
As a youngster, growing up in Dayton, Ohio, Tom won five National YMCA Diving titles and two National AAU Junior Nationals Championships. He was coached in the early years by Ray Zahn, George Burger and Lou Cox.
By the time he graduated from college at Ohio State University in 1961, diving for Hall of Fame Coach Mike Peppe, Tom had won the NCAA National Trampoline Championships and a year later, the U.S. National AAU Diving Championships twice on the 10m platform. In 1964 at the Tokyo Olympics, and under the eye (1961-1965) of coach Dick Smith, Tom won the bronze medal on the 10m platform, only two points behind gold medalist Bob Webster (USA) and one point behind silver medalist Klaus Dibiasi (Italy) both Hall of Famers. Tom went on to win National Championships in Spain and Japan and then competed in and won first place in the 1970 and 1971 World Professional High Diving Championships in Montreal. His next competition was diving off the cliffs of Acapulco. He survived. All this was while flying several hundred combat missions in Vietnam from 1965 to 1967 earning the Distinguished Flying Cross, the Air Force Commendation Medal and the Air Medal with multiple silver clusters.
From 1971 to 1982, he coached diving at the University of Miami (FL) developing divers, winning six National Championships and competing on World, Pan American and Olympic teams. Steve McFarland, Melissa Briley, Julie Capps, Greg Garlich and Greg Louganis were among his team members.
But perhaps Tom's greatest contribution came from behind the scenes as a leader in the sport. Universally acknowledged for his low-key, amiable manner, his stock-in-trade is his ability to work effectively and silently to promote the sport. Extremely intelligent, he can be very persuasive. Says one veteran, "Tom can make you believe a watermelon is an apple." Since 1977, he has served on the United States Olympic Committee Board of Directors (1977-2004) and Executive Board, working to autonomize the four aquatic disciplines under the Amateur Sports Act of 1978. He helped establish U.S. Diving, Inc. in 1980 and serves as the only continuous board member. He served four years as its president (1985-90) and since 1998 has been president to United States Aquatic Sports which represents all the disciplines and reports directly to FINA.
On the international scene, Tom serves on the Executive Board of the Amateur Swimming Union of the Americas (ASUA). In 1984, he was elected to the FINA Technical Diving Committee and continues in that position today. He served three, four-year terms as chairman during which time he proposed and passed legislation to include 1 meter diving in the FINA World Championships (1986) and synchronized diving for World competitions, with its debut at the 2000 Sydney Olympics. "It lends the element of team, which every other sport has.  It's TV and a proven crowd favorite," says Tom. Tom is responsible for the renovation of  international judging, initiating a judges' education program involving clinics and manuals. Tom has served as the
Chairman of the FINA Diving Commission for the World Swimming Championships (1990-98) and as Chairman of the FINA Diving Commission for the Olympic Games (1992-2000).
Tom has received the FINA silver and gold pins, served as the U.S. Team Manager for the 1976 and 1984 Olympic Games, was Chairman eight years (1991-98) for the ISHOF Honoree Selection Committee and served four years (1986-90) on the ISHOF Board of Directors. All the while, Tom was airline captain for National (1967-80), Pan American (1980-91) and Delta Airlines (1991-2000). He has received the Mike Malone/Glen McCormick Award (1984) for outstanding contribution to U.S. Diving, the Phil Boggs Award (1995), U.S. Diving's highest award and the 1997 Paragon Award for competitive diving.
Tom's accomplishments were never for personal fame, but always an honest attempt to help the sport he loves. He has applied the same determination and passion that made him an Olympic medalist to pursuing the goal of advancing and improving all aspects of diving on the international scene for the good of the sport and the athletes.