Happy Birthday to Zoe Ann Olsen, who would have been 90 years old today….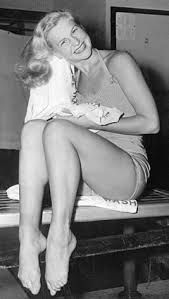 ---
ZOE ANN OLSEN (USA) 1989 Honor Diver
FOR THE RECORD: OLYMPIC GAMES: 1948 silver (springboard); 1952 bronze (springboard); AAU NATIONALS: 13 (1M, 3M); Helms Hall of Fame: 1956; Iowa Sports Hall of Fame: 1978; Northern California Athlete of the Year: 1947.
Zoe Ann Olsen of the USA won a record 13 National diving titles, all of them on the springboard. Her Hollywood stage mother, Norma, had been a great synchronized swimmer. Her father was her teacher-coach. Her high school sweetheart and her first husband was an All-American football player and baseball's Most Valuable Player with the Boston Red Sox. Her blonde good looks would have made it easier for her to be a cheerleader, yet Zoe Ann persisted over a long diving career that brought her an Olympic silver medal in 1948 and a bronze in 1952.
She began diving at the age of six in Council Bluffs, Iowa, and by the age of 11 had won all of Iowa's women's state championships. Only three years later at age 14, she became the 3 meter springboard champion of the U.S., the youngest at that time. She had no practice pool in her hometown so war gas rationing stamps were stretched and three times a week trips were made to Waterloo, IA about 15 miles away at the Y.M.C.A. where she sandwiched in dives during plunge period for the youngsters. The Olsens moved to California where training facilities were better and where she could train under famed diving Coach Lyle Draves.
Her finest moment came when she was defending her National Championship in 1947, diving with a broken right hand in a cast with only 3 days back in the water. She pulled out a dramatic narrow victory to win the springboard diving. This performance helped her win Northern California Athlete of the Year in 1947, one of her 150 awards from a diving career which became serious when she was only 12 years old.