HAPPY BIRTHDAY to XU YIMING !! THE GREAT CHINESE DIVING COACH ~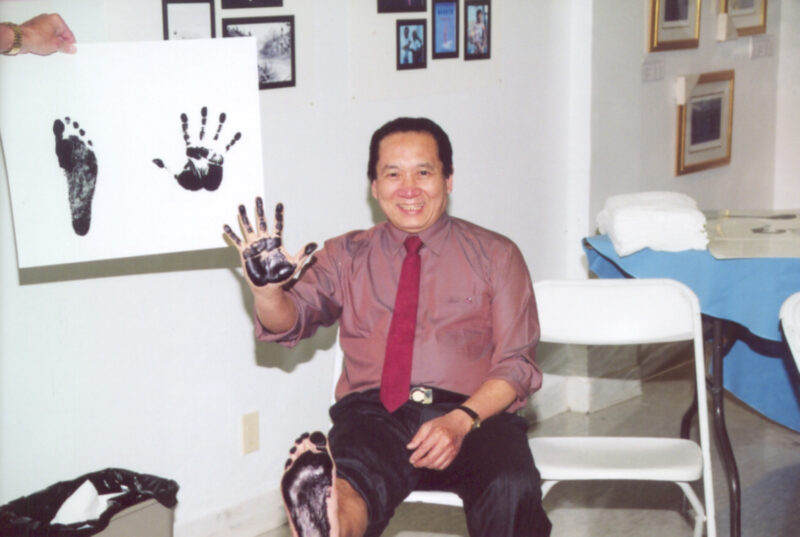 ---
The information on this page was written the year of their induction.
FOR THE RECORD: 1988, 1992, 1996, 2000 OLYMPIC GAMES: Head Diving Coach (men, women); Coach of OLYMPIC DIVERS: winning 15 gold medals, 4 silver medals, 1 bronze medal; NATIONAL TEAM HEAD COACH: 1985-2000; 1982, 1986, 1991, 1994, 1998 WORLD CHAMPIONSHIPS: Head Diving Coach (men, women); Coach of WORLD CHAMPIONSHIP DIVERS: winning 10 gold medals, 7 silver medals, 4 bronze medals; Served Four Terms on FINA TECHNICAL DIVING COMMITTEE 1984-2000.
Born in 1942 in Guang Dong Province, China, Xu Yiming was destined to lead his country to world dominance in the sport of diving. He began as an eight-year-old diver, diving for Coaches Lui Chen Hai (1950-1960) and then Chen Kuan Xian (1960-1973). But it was not until age 30, in 1972, that he won the 10-meter platform event at the China National Games. The next year, Xu took the step from competitor to coach and started a dynasty of World and Olympic Champions.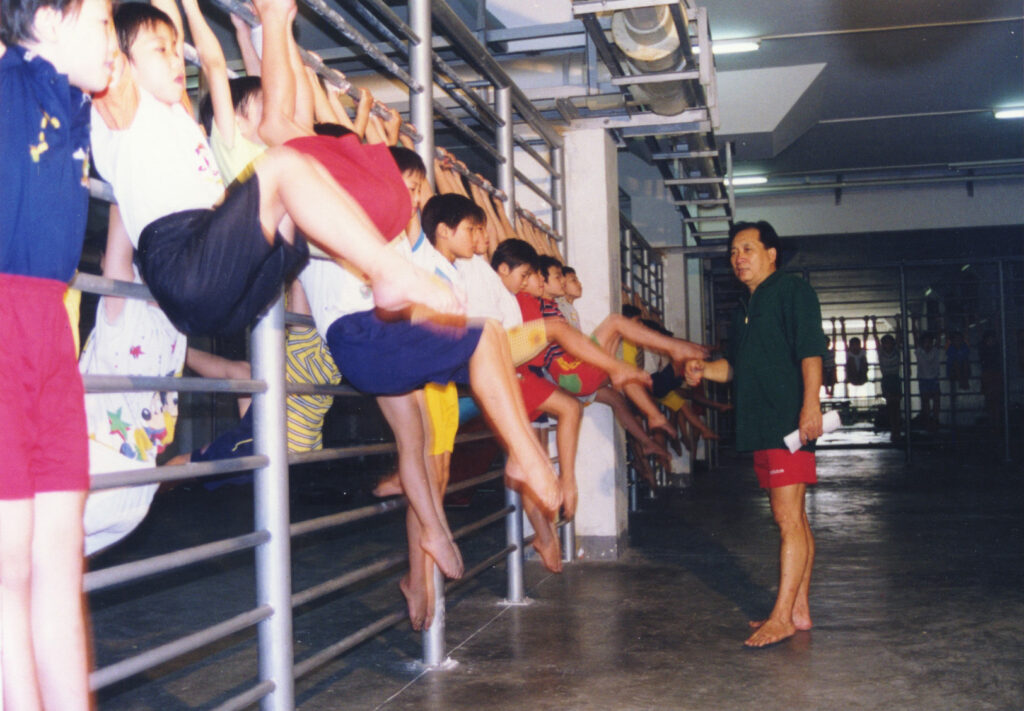 From his coaching debut in 1973, Xu rapidly ascended in coaching success. With a strong sense of responsibility, he felt ill-at-ease about China's slow progress in diving. He was convinced that the Chinese divers would some day do as well as any great divers in the world, provided that they broke away from conventional training methods and tried something new. Trainees used to practice basic somersault skills on a trampoline while a complete dive had to be tried over the pool at the risk of getting whopped by the water. With his diving experience, Xu knew only too well what a belly-flop was like. After carefully studying the training methods used by other coaches, he invented a new device for trampoline exercise. With two pulleys fixed on the ceiling and a belt attached to the waist of the trainee, he was able to increase the height of flight and the speed of somersaults to lengthen the time of descent so that the trainee could take his time in completing a sophisticated dive with his eyes open in the air.
It was with this new method of training that, at the 1974, 7th Asian Games in Teheran, the Chinese Diving Team swept all four gold medals. His first star pupil, Li Kongzhen, then only 15, was a victor.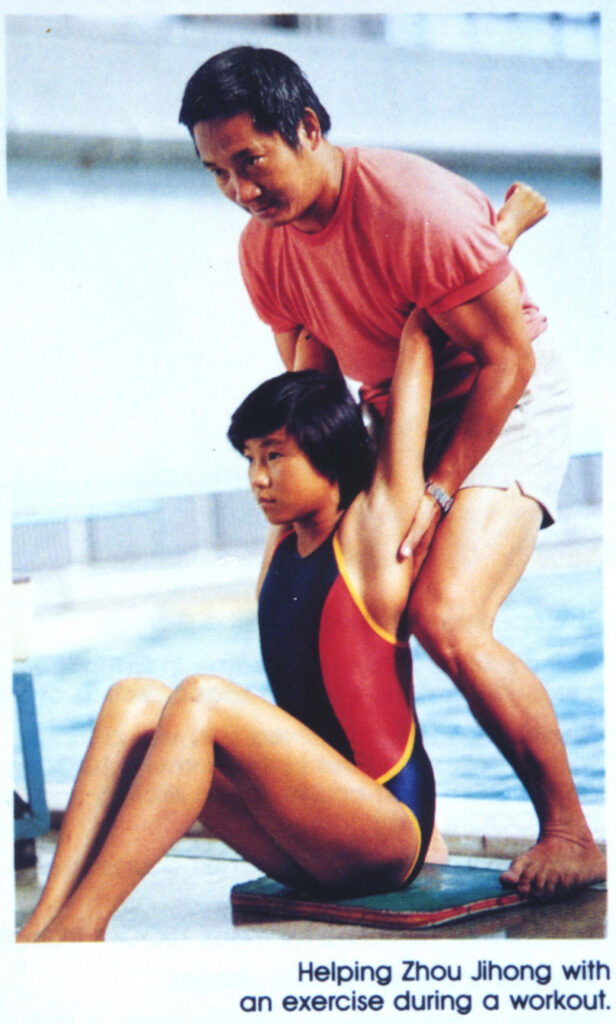 Xu became five-times Olympic Diving Coach (1984, 1988, 1992, 1996, 2000) and from 1984-2000, coached divers to 15 gold medals, 4 silver medals and 1 bronze medal in Olympic competition, winning more than one-half of the available gold medals in those five Olympiads. In his 16 years as National Team Head Coach, Xu's Olympic and World Championship medal winners include: Li Conejeng (platform 1984 Olympic bronze, 1986 World Championships silver); Tan Liangde (3m springboard 1984, 1988 and 1992 Olympic silver); Zhou Jihong (platform 1984 Olympic gold); Chen Lin (platform 1986 World Championships gold); Xu Yanmei (platform 1988 Olympic gold); Gao Min (3m springboard 1988 and 1992 Olympic gold); Sun Shuwei (platform 1992 Olympic gold); Fu Mingxia (platform 1992 Olympic gold, 3m springboard and platform 1996 Olympic gold, 3m springboard 2000 Olympic gold); Xiong Ni (3m springboard 1996, 2000 Olympic gold); Tiao Liang (platform 2000 Olympic gold); Xiong Ni / Xiao Hailiang (3m springboard synchro 2000 Olympic gold); Tian Liang / Hu Jia (10m platform synchro 2000 Olympic silver); Guo Jingjing / Fu Mingxia (3m springboard synchro 2000 Olympic gold); and Li Na / Sang Xue (10m platform synchro 2000 Olympic gold).
Xu was also "coaching" the coaches to advance their level of technique. Eighty percent of all diving coaches attended his two- to four-month long seminars held throughout the provinces.
From 1984-2000 Xu served four terms on the FINA Technical Diving Committee. In 1996, he offered and edited Basic Diving Coaching Manual, a 412-page publication presented by FINA to the world diving community. Printed in multiple languages, it describes his training methods used from 1973-1995 and includes new, innovative dryland equipment he introduced.
In 2000, FINA appointed Xu to produce a 10-volume video series on diving coaching which includes material from his first publication as well as new methods used from 1995-2002.
Xu is engaged to establish an international diving training center with all amenities and has designed competitive stadiums throughout China including Beijing, Shanghai and Guangzhou as well as at TsingHua University in Beijing. New dryland training facilities are designed with each location.
To Xu, success lies with strict discipline. You can never train too long or too hard. A perfectionist, Xu has an insatiable desire for success. He trains children into world champions.
#ishof #diving #olympics #fortlauderdale #paris2024 #china #usa #honoree #birthday