Happy Birthday to the QUEEN of ISHOF ~ Donna deVarona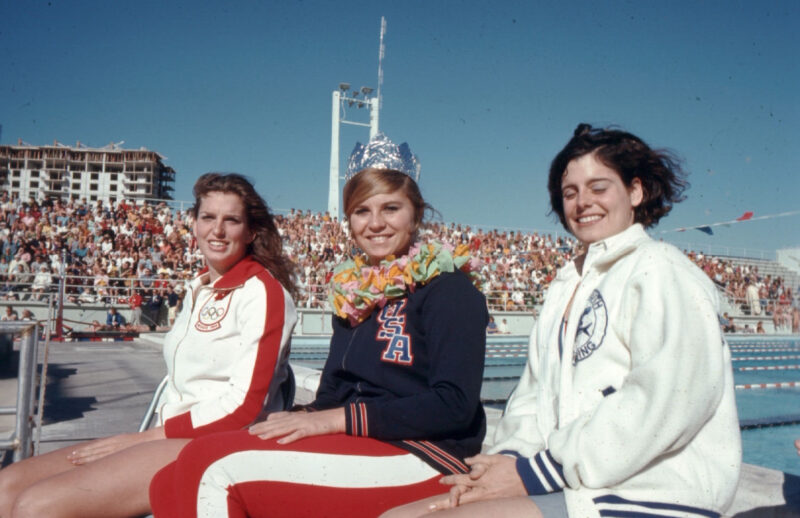 ---
Of the over 800 Honorees that have been inducted into ISHOF, probably none have a closer tie to the institution than Donna deVarona. Since the very beginning, she has been a part of ISHOF. She was invited to the grand opening of the Hall of Fame Pool in 1965, and was named the "Queen", as she was one of the most recognized faces around, having just won two gold medals at the 1964 Olympic Games in Tokyo. She had also just been on the covers of several major national magazines, including "Life" and "Sports Illustrated". A few years later, she was inducted in 1969 as an Honor Swimmer, see her bio below. But Donna always made ISHOF a priority and kept coming back to Fort Lauderdale. She returned anytime she was asked, and sometimes even when she wasn't! Donna was a favorite of ISHOF Founder and Executive Director, Buck Dawson, and you can bet he asked frequently. She returned for many induction ceremonies through the years, whether to emcee the event or just to attend and show support. If Buck needed help with an introduction to someone, or a phone call for assistance, Donna was always there. And she knows everyone. With her job in television, she knows stars, athletes, politicians, you name it. And she is still part of us today. We just saw her in January, 2023, at the new 27-meter Tower Dive Challenge and Aquatic Center Grand Opening. So, today on her birthday, we would just like to say thank you for her years of friendship to ISHOF and we celebrate YOU Donna!
Donna DeVarona (USA)
Honor Swimmer (1969)
The information on this page was written the year of their induction.
FOR THE RECORD: OLYMPIC GAMES: 1960 (participant); 1964 gold (400m individual medley, 4x100m freestyle relay), 5th (100m butterfly); WORLD RECORDS: 8 long course events; AMERICAN RECORDS: 10 short course events (she broke and re-broke her World and  American records in these events many times); NATIONAL CHAMPIONSHIPS: 37 individual titles in backstroke, butterfly and freestyle (including 18 gold medals and 3 national high point awards); AWARDS (1964): America's Outstanding Woman Athlete, Outstanding American Female Swimmer, San Francisco's Outstanding Woman of the Year, Mademoiselle Award, National Academy of Sports Award, and others.
What Eleanor Holm and Esther Williams were to the "Aquacades" 20 years earlier, Donna deVarona was to swimming in the 1960s.  Her glamour and showmanship seen on television, in swimsuit ads, and as an after-dinner speaker are a popular reflection of a swimming record second to none in her time.
Miss deVarona won 37 individual national championship medals, including 18 golds and three national high point awards.  She held world records in 8 long course events and American records in 10 short course events, which would have been world records if FINA still recognized 25 yard pool times as they did until 1957.  Most of Donna's world and American records were broken and re-broken numerous times by Donna herself, so she actually held many times more records than the 18 events she held them in.
Her versatility is reflected in her absolute dominance of the tough four stroke Individual Medley, often thought of in tract terms as "the decathlon of swimming."  She further won national titles and set world fastest times in 3 of the 4 strokes in individual events (backstroke, butterfly, and freestyle), establishing herself at various times as the world's fastest as well as the world's best all-round swimmer of her day.  Her day was a 5-year period which extended from the Rome Olympics until retirement after the Tokyo Games.  She was the youngest American on the 1960 team, and four years later she won two gold medals.
In between and following these two Olympics, she was the Queen of Swimming and was so recognized by the International Swimming Hall of Fame at its first International Meet in 1965.  During her reign, as most photographed woman athlete, Donna was cover girl on "Life", "Time", "Saturday Evening Post" and twice on "Sports Illustrated".
Her biggest award year was 1964 when she was voted America's Outstanding Woman Athlete, Outstanding American Female Swimmer, and San Francisco's Outstanding Woman of the Year, plus the Mademoiselle Award, National Academy of Sports Award and many others in as many languages.  She has represented the United States, "doing her thing" in Australia, New Zealand, Germany, Japan, Netherlands, Peru, Brazil, England and Italy.