Happy Birthday to our newest Honoree: Missy Franklin!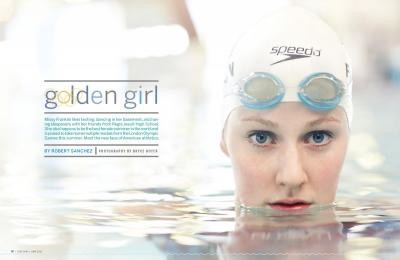 ---
From Missy Franklin's Website:
Missy Franklin is a five-time Olympic gold medalist and multiple world record-holder in the sport of swimming. 
Franklin became a household name during the 2012 Olympic Games in London when she won four gold medals and one bronze medal, becoming one of the most decorated athletes of the Games. She won gold in the 100-meter back, 200-meter back, 4×200-meter free relay and 4×100-meter medley relay, and won bronze in the 4×100-meter free relay. Franklin's performance in the 200-meter backstroke broke the world record in the event and also marked the first time that an American had won the event in 40 years.
She followed her Olympic success by winning six gold medals at the 2013 FINA World Championships in Barcelona, becoming the most-decorated female swimmer in history at a single World Championships. At the 2015 World Championships in Kazan, Russia, Missy made history again, becoming the first women to earn 11 career World Championship titles. 
In 2016, Missy made her second Olympic Team at the age of 21. Missy qualified in the 200-meter free, 200-meter back, and 4×200-meter free relay. At the Olympic Games in Rio, Missy earned her fifth gold medal as part of the 4x200m free relay team.
Franklin, who was raised in Centennial, Colo., began swimming competitively at the age of five and competed in her first international event at the age of 14. In 2011, she established herself as one of the top swimmers in the world when she won five medals – three of them gold – at the 2011 FINA World Championships in Shanghai. That fall, she also broke her first world record at the FINA World Cup in Berlin, becoming the first female to break an individual world record since high-tech bodysuits were banned in January of 2010.
As a member of the U.S. National Swim Team, Franklin competed at UC Berkeley before turning professional. Her choice to swim collegiately and forgo sponsorships and prize money was well documented during the 2012 Olympics, but swimming for a college team was something that was very important to Franklin. In her two years competing at Cal, Franklin earned four individual NCAA titles and helped UC Berkeley win the 2015 NCAA Women's Division I Swimming and Diving Team Championship. She was also awarded the 2015 Collegiate Woman of the Year and awarded the Honda Cup for her collegiate athletic achievements.
Franklin retired from competitive swimming in December of 2018. She currently lives in Georgia where she is pursuing a bachelor's degree in religious studies at the University of Georgia.