Happy Birthday to our founder, Buck Dawson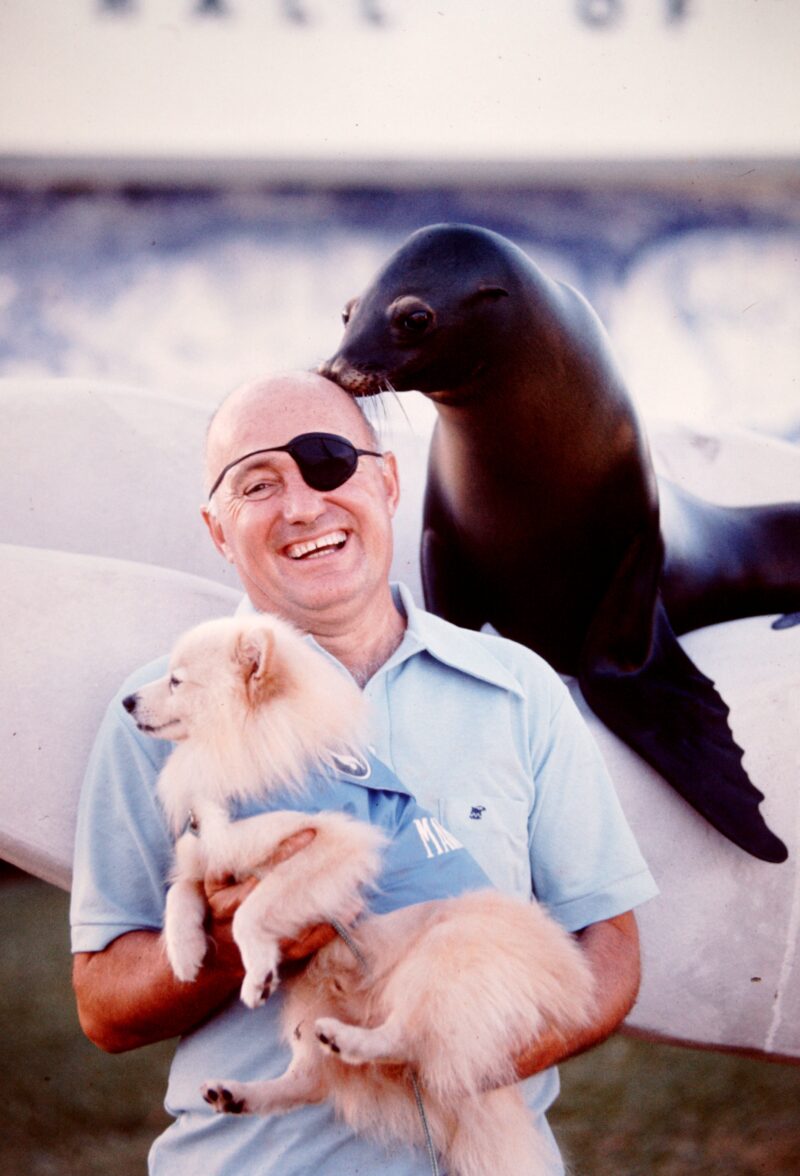 My beautiful picture
---
The purpose of many museums is to remember history. Probably, one of the most important pieces of ISHOF's history is a man named Buck Dawson, and many of you probably have never heard of him. But, if you were lucky enough to know Buck, boy, was he something !!! Buck was born on Halloween, which is pretty appropriate if you knew anything about him. I'm not really even sure why, but of all the holidays, Halloween seems to fit Buck the best! Maybe its because everyone dresses up and has fun on Halloween! And that's what Buck was all about, FUN! Buck was the reason ISHOF exists. He was hired as the very first Executive Director of ISHOF, but nobody was a better promoter, than Buck. And nobody could promote anything better than Buck. He was going to put ISHOF on the map, one way or another! Buck got all kinds of people to come to visit our Hall of Fame ~ Presidents, movie stars, boxing legends, Astronauts, Royalty, you name it, if they were somebody, Buck figured out a way to get them to the Hall of Fame! Read below and learn about Buck Dawson's life and why he was one of the most beloved characters in all of swimming!
FOR THE RECORD: Founding Executive Director of the International Swimming Hall of Fame (1964); Known as the "Walking Encyclopedia of the Sport".
He claims his family doesn't allow him to swim in public! (Only at night when no one can see!) But Buck Dawson has done more for swimming than any non-swimmer in the world.
William Forrest Dawson — "Buck" is a historian, fundraiser, author, promoter, and of course, prankster.
Buck first got involved with swimming after his marriage to RoseMary Mann — daughter of the late Matt Mann.  From then on, it went something like this: organizing the Ann Arbor Swim Club, co-directing Matt Mann swim camps in Canada each year (Camp Ak-O-Mak and Camp Chikopi), chairing Michigan women's swim AAU for eight years, and serving three terms on the United States Olympic Swim Committee.  He shares responsibility in starting the women's national collegiates and reviving national women's water polo.
Dawson likes to think of himself as a coach and still keeps his hand in training marathon swimmers and national long distance individual and team winners in US swimming.  Besides his special gift with children, he has also made magic at the International Swimming Hall of Fame for the past twenty years.  Dawson was chosen the Hall's first executive director in 1963.  He has made the Hall grow from an idea to a shoebox collection, and ultimately a million dollar operation as the showcase and archives of swimming.
One of his many great successes at the Hall of Fame was his introduction of Swim-A-Thon to the United States, which increased the endowment of ISHOF and raised funds for individual swim clubs and teams.  This tireless, smiling, globetrotting ambassador of swimming can also be credited for the thousands of athletes, fans and press alike who have flocked to Fort Lauderdale for sun, fun and swimming.
It was Buck who gave the American Swimming Coaches Association some roots back in 1971 when he and the Hall of Fame staff assumed administrative duties for ASCA.  Dawson was a powerhouse not only in ASCA but also in the organization of another association – the National Swim and Recreation Association.
He is also the founder and first president of the Association of Sports Museums and Halls of Fame — a group of some 80 Hall of Fame directors.  Throughout the years, it has been Buck who traveled from meet to meet armed with Hall of Fame brochures, books and bumper stickers always spreading the word, always willing to talk and teach swimming to anyone who would listen.
A day doesn't go by without "Good Morning, America," "USA Today," "NBC Nightly News" or one of the nation's top swim coaches calling to speak to Buck.  He is respected in this field not only for his knowledge but his zest for life. . . his search for new facts, memorabilia. . . new ways to teach those children to swim and keep the sport alive and growing.  Dawson is the link between our age group swimmers and our swimming legends.  He is the common denominator that ties the past to the present.
Dawson's specialties?  Swimming, diving, synchro, water polo, water safety, bathing suits, bathing beauties. . .
Dawson eats, lives and breathes swimming.  He has written numerous books and has been the recipient of many prestigious awards.  Buck IS the International Swimming Hall of Fame.  Who else would name an ISHOF mascot Mark the Spitz? Or snicker at the thought of a dog paddle derby?
Dawson is hype, show business — an idea and PR man.  Throughout his life, he has always gotten his kicks out of promoting something or somebody else he believed in : in the war it was Generals Gavin and Ridgeway- the 82nd Airborne; later his alma mater, the University of Michigan; his family, swim camps and ultimately the Swimming Hall of Fame, swimming and swimmers.
What does this walking encyclopedia say about himself? "I wouldn't say I'm a workaholic, but I think swimming has been my hobby. . . I have been sort of a little bit of everything.   I feel this (the Swimming Hall of Fame) has been the culmination of my life."
Buck is "retired" now, serving as executive director emeritus.  Undoubtedly he is still putting in the 18 hour days and the endless journeys and speeches that have made him one of swimming's most active and knowledgeable spokesmen.
We lost Buck on April 4, 2008, but he will never be forgotten because his legacy at ISHOF will always live on…..