Happy Birthday to the Mother of Baby Swimming – Virginia Hunt Newman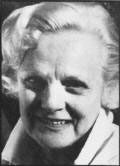 ---
VIRGINIA HUNT NEWMAN (USA) 1993 Honor Pioneer Contributor
FOR THE RECORD: Swimming instructor of infants; Produced film on how to dive springboard. 1967–published Teaching An Infant To Swim; Best know for developing the non-forceful, non-traumatic method of teaching infants to swim.
Virginia Hunt competed in swimming for the Indianapolis Athletic Club from 1932 to 1940, winning numerous Midwest and national titles. From 1940 to 1948 she competed in diving for the Los Angeles Athletic Club where she won several Southern Pacific Association titles and a national title.
During World War II, Virginia traveled with the United Service Organization and the Hollywood Victory Committee, appearing in water shows with Hall of Famers Johnny Weissmuller, Stubby Kruger, Buster Crabbe, and Dutch Smith, for the armed services.
Although she was quite successful as a swimmer and diver, Virginia is renowned for her accomplishments as an infant swimming instructor. She began teaching swimming to infants and pre-schoolers in 1950 and became an aquatic director and diving coach at a private boys' school. During this time, Virginia wrote and directed a series of films on springboard diving and served as Secretary of the Southern Pacific Association Diving Committee for two years.
In 1962 she came to a major turning point in her career. Her star student, two-year old Mary Crosby, daughter of entertainer Bing Crosby and his wife Kathryn successfully passed the skill test for the Red Cross Beginners Certificate. At this time, Mary was the youngest child in the history of the Red Cross to do this. So impressed with her achievements and the fact that she was the daughter of Bing Crosby, Mary's award was personally presented by the director of Red Cross Safety Services and Hall of Famer Johnny Weissmuller on national television and covered by Life, Look, and Time magazines and headlined in the Los Angeles newspapers.
This event led to the compiling of Virginia's methods in her book Teaching An Infant to Swim in 1967. It gave world-wide attention to non-forceful or non-traumatic teaching methods. Her book became so popular that it was published in England, Australia, Germany, Sweden, Italy, and Japan. She later published her next book Teaching Young Children To Swim And Dive, in 1969.
Besides her success with young Mary Crosby, Virginia was also the swimming instructor for the children of John Wayne, Bob Hope, Harry Cohen, Jerry Lewis, Alan Ladd, Bob Newhart, Max Factor, Sonny & Cher, and Danny DeVito and Rhea Perlman.
Her methods, distraction from normal fears associated with learning to swim and rewards for trying and performing skills, have been accepted by thousands of swim instructors world-wide.
For her accomplishments, Virginia received both the National Service Award in 1971 and National Honor Award in 1983 from the Aquatics Council of American Alliance of Health, Physical Education, Recreation and Dance. Virginia later opened Newman Swim Academy in Hollywood, California, in 1973 and became the executive director of the United States Swimming Foundation in 1980. Today Virginia continues to give many national and world workshops, clinics, and lectures on teaching children how to swim.