Happy Birthday to ISHOF Honor Swimmer Dick Roth!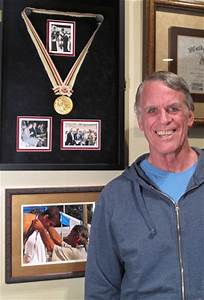 ---
DICK ROTH (USA)  1987 Honor Swimmer
FOR THE RECORD: OLYMPIC GAMES: 1964 gold (400m individual medley); WORLD RECORDS: 2 (400m individual medley); AAU NATIONALS: 11 (200m, 400m individual medley; 1 relay); NCAA CHAMPIONSHIPS: 3 (200yd, 400yd individual medley; 1 relay); AMERICAN RECORDS: 12 (200yd, 400yd, 200m, 400m individual medley; 5 relays).
The 1964 Tokyo Olympics final in the 400 meter individual medley looked like an Army sick call with almost as many doctors as coaches hovering around the swimmers.  Dick Roth, the world record holder, certainly had a good excuse for not swimming.  On the night before the race, Dick had his appendix in ice packs and was told he must have an emergency operation.  "No!" said Roth.  "I'm  not missing the Olympic final no matter what happens."  Former world record holder Gerhard Hetz of Germany had pneumonia, and Roy Saari (USA) had a very heavy cold that was causing him to have a sub par Olympics.  They all swam.  "I forgot my hot appendix during the race," said Roth.  He won the 400 IM setting a new Olympic and world record with Saari second and Hetz third.  The five healthy finalists finishing behind.
Dick Roth's world record lasted four years.  He set seven American records between 1963 and 1967 during a period when the 200 meter individual medley was not recognized as a world record.  This Santa Clara and Stanford swimmer won 12 nationals in his all stroke specialty as well as making the finals in backstroke and swimming on seven national relay winners for coaches George Haines and Jim Gaughran.  His size 13 feet were too big for Japanese shoes and lots of swimmers could beat him at one of the individual strokes, but put the four in the pool together and versatile Dick Roth was King Richard of the I.M. for five years.
Dick Roth at ISHOF Grand Opening with
Esther Williams and Doc Counsilman