Happy Birthday to ISHOF Honor Coach Don Watson, who would have turned 89 today…….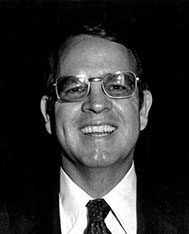 ---
Don Watson (USA)
2015 Honor Coach
FOR THE RECORD: COACH OF FIVE OLYMPIC SWIMMERS WINNING TWO GOLD, ONE SILVER, ONE BRONZE MEDALS: 1968, 1972; COACH OF SWIMMERS SETTING THREE WORLD RECORDS AND FIVE RELAY WORLD RECORDS; COACH OF WORLD CHAMPIONSHIP SWIMMERS WINNING FIVE GOLD AND ONE SILVER MEDALS: 1973, 1975, 1979; COACH OF SIX SWIMMERS WINNING THIRTEEN NATIONAL CHAMPIONSHIPS AND SETTING SIX NATIONAL RECORDS: 1970 – 1976; COACH OF THREE SWIMMERS WINNING THREE GOLD AND ONE SILVER MEDALS AT THE PAN AMERICAN GAMES: 1971; COACH OF TWO WORLD PROFESSIONAL MARATHON SWIMMING CHAMPIONS; COACH OF FOUR A.A.U. US NATIONAL LONG DISTANCE TEAM CHAMPIONS; COACH OF THREE-TIME U.S. OLYMPIC MODERN PENTATHLON TEAM MEMBER; AMERICAN SWIMMING COACHES ASSOCIATION COACH OF THE YEAR:1970; SIX-TIME INTERNATIONAL USA TEAM MANAGER: 1989 – 1995; DIRECTOR OF UNIVERSITY OF TEXAS SWIM CENTER: 1981 – 2005; MANAGER OF LONGHORN AQUATICS SWIM CLUB: 1981 – 2005; CONDUCTED OVER 45 MAJOR SWIMMING CHAMPIONSHIPS; COACH OF HINSDALE HIGH SCHOOL SWIMMING TEAM: 1965 – 1980.
Don Watson's swimming life began in the mid-1940s when, having just turned 13, he joined the St. Louis YMCA swim team. Now, as it turned out, the St. Louis Y had among its members, an outstanding swimmer who would have a profound influence not only on Don's life, but on the sport of swimming. That swimmer was Jim Counsilman, better known to us today as "Doc."
Don remembers the 1946 YMCA National Championships, held at Huntington, Indiana as his most memorable meet. Doc — who was captain of the Ohio State team at the time – won the 100 and 200 yard breaststroke titles — and Don won the 1650 free. Another highlight of his swimming career was breaking the record for the 22 mile Mississippi River Marathon swim by almost four hours.
Perhaps not by coincidence, Don earned a swimming scholarship to the University of Iowa, where Counsilman was the team's assistant coach under another Hall of Fame coach, David Armbruster. After graduating from Iowa, Don married fellow swimmer Janet Frank. The couple then moved to Indiana, where Don earned a Masters degree in physical education while serving as an assistant coach under IU's new head coach- you guessed it – Doc Counsilman!
On leaving Indiana in 1965, Don taught and toiled as an assistant coach before accepting the top position at Hinsdale Central High School, in Illinois. At Hinsdale, Don racked up an incredible record of 163 wins against just three losses. Included among those wins were 128 consecutive victories and 12 consecutive state championships between 1967 and 1978.
In 1968, one of his swimmers, Hall of Famer, John Kinsella, then just a 16-year-old high school sophomore, took the silver medal in the 1500 meter freestyle at the Mexico City Olympic Games. Two years later, Hinsdale won the national interscholastic title. John Kinsella became the first to break the 16 minute barrier in the 1500 meter freestyle and won the Sullivan Award as America's outstanding Amateur Athlete. That same year Don Watson was named "coach of the year" by both United States Swimming and the National Interscholastic Swimming Association.
At the Munich Olympic Games in 1972, Kinsella won a relay gold medal, while another Hinsdale swimmer, John Murphy, won Olympic gold and bronze medals.
Watson's coaching talents extended beyond the pool and into the open water. Beginning in 1973, Kinsella and fellow Hinsdale swimmer, Sandra Bucha, began dominating the world professional marathon circuit. Over his pro career, John won 29 of 31 races and over her 3-year career, Sandra never lost an open water race to another woman. Often the only male to beat her was Kinsella.
Another Watson-coached swimmer was Bob Nieman, a three-time U.S. Olympian in the Modern Pentathlon.
Don left Hinsdale in 1980 to become the Director of the University of Texas Swimming Stadium and Manager of the Longhorn Aquatic Swim Club. In addition to collaborating with six Hall of Fame head coaches at UT, Don was responsible for hosting numerous major competitions at the Stadium, including the 1988 U.S. Olympic Trials.
In the 1970s Don Watson's "Hinsdale Program" became a national model for developing a community-based swimming program noted not only for producing great athletes, but for instilling in them basic concepts of commitment, dedication, hard work and service – as a prescription for successful lives as adults. Among the many noteworthy alums of Watson's Hinsdale program are Dr. George Tidmarsh, a leader in the bio pharma industry, and Bob Dudley, the CEO of British Petroleum.