Happy BIrthday to Honor Swimmer Jenny Fletcher, who was born in 1890….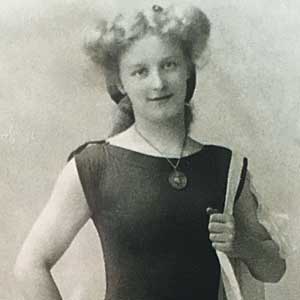 ---
JENNIE FLETCHER  (GBR) 1971 Honor Swimmer
FOR THE RECORD:  OLYMPIC GAMES: 1912 gold (4x100m freestyle relay), bronze (100m freestyle); WORLD RECORDS: 100yd freestyle (held for 7 years; broke her own record 11 times); BRITISH CHAMPION: 1906 through 1912.
In the modern Olympic period beginning with the 1896 Games, the first great woman swimmer was Jennie Fletcher of England.  Miss Fletcher was born in 1890 in Leichester, the midland's city that also produced Hall of Famers Matthew Webb, John Jarvis and Henry Taylor.  It is ironic that this inland city has turned out the four greatest swimmers in the island country that was the cradle of organized swimming.  The public baths in which Jarvis, Taylor and Fletcher worked out in Leichester are still in use now, 75 years later.
The first Olympics to advertise women's swimming competition were the London Games in 1908.
Jennie, at 18, was at the peak of her career, but the women's events were cancelled due to the lack of women competitors.  She did get to compete in the 1912 Games in Stockholm at the end of her career.  She was beaten in the 100 meter freestyle by another Hall of Famer, Australia's Fanny Durack but she won her gold medal anchoring Great Britain's 4×100 "Team race" as the freestyle relay was called in those days.
"The crowning moment of my career," Jennie Fletcher said many years later, "was when King Gustav of Sweden placed the classic laurel wreath on my head, put the gold medal round my neck and said, 'well done, England'."  This laurel wreath is now on display at the International Swimming Hall of Fame.
Interviewed after the 1964 Tokyo Olympics and just before her death at 78 in Canada, Miss Fletcher was asked to compare the athletes of the present and those 60 years earlier.  "We did not have the time or the training,"  she said.  "We swam only after working hours and they were 12 hour days and 6 day weeks."
Among trudgeon-stroking women training after a 60 hour work week, there were none better than Jennie Fletcher.  She held the 100 yard freestyle World Record for seven undefeated years and was British champion from 1906 through 1912.  During a three year period, she broke her own world record eleven times.
Coached by the great Jack Jarvis and chaperoned by his wife, Jennie's parents (she was one of eleven children) turned down an offer for her to turn professional at 17 and tour with the world famous Annette Kellerman.  While Annette was startling the public with her daring one-piece silk suit styled with long sleeves and legs, Jennie had been wearing a shorter sleeveless knee length version for years.  "We were told bathing suits were shocking and indecent and even when entering competition, we were covered with a floor length cloak until we entered the water.