Happy Birthday Sylvie Frechette!!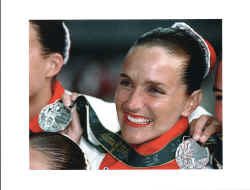 ---
Sylvie Frechette (CAN)
Honor Synchronized / Artistic Swimmer (2003)
FOR THE RECORD: 1992 OLYMPIC GAMES: gold (solo); 1996 OLYMPIC GAMES: silver (team); 1986 WORLD CHAMPIONSHIPS: gold (team); 1991 WORLD CHAMPIONSHIPS: gold (solo, figures); 1986, 1990 COMMONWEALTH GAMES: gold (solo, figures); 1987 PAN AMERICAN GAMES: silver (solo); 10 CANADIAN NATIONAL CHAMPIONSHIPS: gold (figures, solo, duet, team).
Canada has had a rich history in synchronized swimming. Hall of Famers Peg Seller helped organize initial competitions in the sport starting in the 1920s, and June Taylor became the first national champion in the solo event, including in the United States. Hall of Famer Carolyn Waldo won Olympic gold and silver medals in solo and gold in duet with partner Michele Cameron. Then Sylvie Frechette entered the scene and continued Canada's winning ways.
At her hometown-team, the Aquatic Club of Montreal (CAMO), Sylvie was destined as a youngster to become Canada's next Olympic gold medallist.
Under the guidance of her coach, Julie Sauve, Sylvie first competed at the Canadian Junior National Championships in 1979, finishing 19th in duet. Only two years later she was winning gold in solo and duet. By 1983, she was traveling with the Canadian National Team and over the next three years won gold medals in international invitational competitions in Mallorca, Berne, Tokyo, Australia, France and Indianapolis.
In 1986 at the Edinburgh Commonwealth Games, Sylvie won the solo gold medal and was a member of the gold medal winning team at the Madrid World Championships the same year. Over the next three years, Sylvie continued to win more international invitationals.
Then, at the 1990 Auckland Commonwealth Games in New Zealand, Sylvie became the first synchronized swimmer to score perfect 10s from all judges in the solo event. The next year at the World Championships in Perth, she earned the highest combined total marks (201.013) received by a synchronized swimmer in the solo event in World Championship and Olympic competition. The record still stands today.
It was at the 1992 Barcelona Olympic Games that Sylvie reached the pinnacle of international synchronized swimming by winning the gold medal in the solo event. Her routine was done to the music of composer Vangelis and brought fans to their feet. But Sylvie did not receive her medal on site. It was awarded to USA's Kristin Babb Sprague. However, due to a scoring controversy, FINA recommended that the International Olympic Committee award a duplicate gold medal to Sylvie which resulted in two solo synchronized swimming gold medallists – Sylvie and Kristin. She received her medal 14 months later in Montreal.
Following the Olympics, Sylvie retired from competition, developing a calendar thick with speaking engagements, a television interview program called Simplement Sylvie and a public relations position with the National Bank of Canada. But it only lasted two years, and in 1994, she re-surfaced to help her Canadian Team win a medal in Atlanta. The format for Atlanta had changed and the solo and duet competitions were replaced by one event – the team competition. After the lay-off, she could still execute her movements clearly and decisively. Her artistic expression and physical strength shined. Team Canada won the silver medal, only one-and-one-half points behind the USA.
All totaled, Sylvie had won 45 major international competitions in solo and figures events. Out of the water, she has been an analyst for the Commonwealth Games, Pan American Games and Sydney Olympic Games for Radio-Canada television station. She is author of Sylvie Frechette, Gold at Last. In 1993, she funded a National Bank of Canada bursary program giving $75,000 per year to young athletes in Canada. She has been a master of ceremonies for the Canadian Olympic Association at Olympic events in Sydney (2000) and Lillehammer (1994). She was invited by Prince Albert to do special shows in Monaco. One of the Olympic pools in Montreal has been named in her honor. She has been awarded the Canadian Olympic Order (1994) and Meritory Service Cross of Canada (1993).
Perhaps her most dramatic post-competition achievement has been in founding the O Show of Cirque du Soleil in Las Vegas. Performed daily at the Bellagio Hotel in Las Vegas, the show is Sylvie's creation and is considered one of the "greatest shows on earth" performed both on stage and in a swimming pool "tank." As aquatic designer, coach and performer, her greatest challenge is to transform her finely tuned athletes into finely tuned artists, doing ten shows per week, 49 weeks per year.