Happy Birthday Summer Sanders !!!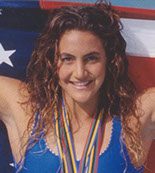 ---
SUMMER SANDERS (USA) 2002 Honor Swimmer
FOR THE RECORD: 1992 OLYMPIC GAMES: gold (200m butterfly), gold (4x100m medley relay – preliminary heat), silver (200m IM), bronze (400m IM), 6th (100m butterfly). 1991 WORLD CHAMPIONSHIPS: gold (200m butterfly), silver (200m IM), bronze (400m IM); 8 U.S. NATIONAL CHAMPIONSHIPS: 2-100y butterfly, 2-200y butterfly, 1-200y IM, 2-400y IM, 1-200m IM; 9 NCAA NATIONAL  CHAMPIONSHIPS: 2-200y butterfly, 2-200y IM, 2-400y IM, 1-4x50y medley relay, 1-4x100y medley relay, 1-4x100y freestyle relay; 1989 PAN PACIFIC CHAMPIONSHIPS: silver (200m IM); 1991 PAN PACIFIC CHAMPIONSHIPS: gold (200m IM, 400m IM, 200m butterfly).
Summer Sanders, a name synonymous with success in swimming. Born October 13, 1972, by age three Sanders could swim a lap of the pool. She wanted to be just like her older brother Trevor. So in 1976 she joined the Sugar Bears, an age group swimming program in RoSAVILLE, California, coached by Mike Barsotti, Scott Winter and Scott O'Conner. From there she jumped to the Sierra Aquatic Club with coach Ralph Thomas and finally to COA where coach Mike Hastings became her greatest influence as a coach. "She knew how to find the holes in the water," Hastings recalled. "You know how Summer psyches herself up?" brother Trevor had said, "She does it by smiling." But who could have predicted that she would make swimming history years later at the 1992 Barcelona Olympics, winning two gold, one silver and one bronze medal.
In 1989 at age 17, she made her way to a silver medal in the 200m I.M. behind Lin Li of China at the Pan Pacific Championships, her first international meet. Two years later, she came back to win the event, as well as the 400m I.M. (beating Lin Li) and the 200m butterfly.
In 1991, her first year swimming for Hall of Fame coach Richard Quick at Stanford University, Sanders won the 200y butterfly, 200y I.M. and 400y I.M and the 4x100y medley relay. And she repeated her championship swims in 1992, the only other year she swam at Stanford and helped her team win the NCAA National Championships. All totaled, she won eight NCAA National Championship titles during her two years of competition.
At Perth, Australia for the 1991 World Championships, Summer won a silver medal in the 200m I.M. and a bronze medal in the 400m I.M. behind Lin Li of China. It was her prelude to winning the gold medal in the 200m butterfly in the Olympic record time of 2:08.67 the next year at the Barcelona Olympics.
Sanders also won silver and bronze medals in the 200m and 400m individual medleys and a second gold medal on the 4x100m medley relay – preliminary heat. In qualifying for the Olympic Games, Summer was the first U.S. woman since Hall of Famer Shirley Babashoff in 1976 to qualify for four individual events at one Olympiad.
Summer swam for another year, then officially retired in 1994, but came back a year later to try unsuccessfully for the 1996 Olympic Team. During her career she won eight U.S. National Championships.
Sanders turned her enthusiasm, focus, and glowing smile to television reporting and event hosting. She has been co-host of NBA Inside Stuff, contributor for the Today Show, host of  "U.S. Olympic Gold," co-host on Nickelodeon, contributing editor of Self Magazine, and special feature correspondent for NBC Sports at the 2002 Olympics. She has been a reporter for the NBA, USA tennis and various other events and a special representative of Sport for the U.S. Committee for UNICEF.