Happy Birthday Sue Pedersen !!!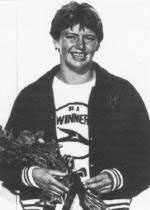 ---
SUE PEDERSEN (USA) 1995 Honor Swimmer
FOR THE RECORD:  1968 OLYMPIC GAMES: gold (4x100m freestyle relay, 4x100m medley relay), silver (100m freestyle, 200m individual medley), 4th (400m individual medley); 3 WORLD RECORDS: (200m freestyle, 4x100m medley relay, 4x200m freestyle relay); 1967 PAN AMERICAN GAMES: silver ( 800m freestyle, 200m , 400m individual medley); 6 U.S. NATIONAL CHAMPIONSHIPS; 4 U.S. NATIONAL RECORDS; 9 AMERICAN RECORDS.
At the age of three, Sue Pedersen had so much extra energy that her family doctor instructed her parents to "find something for her to do."  Following the doctor's advice, they introduced her to a swimming pool where her tremendous energy became loads of talent, making history.
Sue became the greatest age group swimmer of her era.  She was the first 10 and under age group swimmer to break a minute in the 100 yard freestyle.  The following year she shocked her audience by becoming the youngest girl to set a senior American record.
Her parents, who regarded her swimming as a "family affair," often had to present proof of age to judges who had a hard time believing that one so young could swim so fast.
In her first senior level meet at the AU Swimming Championships, Sue humbled the world's top swimmers by capturing the 500 yard freestyle event.  Her record-breaking style continued at the 1968 Olympic Trials when she came out No. 1, smashing the American record and found a spot as "Baby Sue" of the Olympic team.
Celebrating her 15th birthday at the Olympics, she received many gifts including a few from herself: two gold medals in the 4×100 meter freestyle relay and the 4×100 meter medley relay and two silver medals in the 100meter freestyle and the 200 meter individual medley.
Shortly after the Olympics, Sue decided to retire while still a champion.  Throughout the years, Sue has instilled in her daughter, Trish, the values she learned through swimming.  Trish is an accomplished equestrian rider and is now in her first year of medical school.  Sue lives in Tacoma, Washington and works as a certified public accountant.