Happy Birthday Sandra Bucha!!!!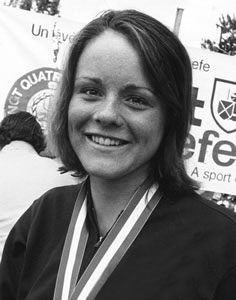 ---
SANDRA BUCHA (USA) 2014 Honor Open Water Swimmer
FOR THE RECORD: PROFESSIONAL MARATHON SWIMMING ASSOCIATION WORLD RANKING: 1973 (4th place), 1974 (2nd place); CHICAGO LAKE FRONT RACE: First Place (1973, 1974, 1975); LA TOQUE 24 HOUR RACE: First Place (1974, 1975); LAC ST. JEAN RACE: First Place (1974, 1975); LAVAL, CANADA RACE: First Place; ONE AMERICAN RECORD: 200m freestyle, S.C.M.
Like Annette Kellerman before her, this little girl earned her place in swimming history in the water and in the courtroom.
Sandra Bucha had been a top age grouper in Washington D.C. before her family moved to Illinois. Swimming under coach Don Watson, in Hinsdale, she became an American record holder and national champion. She trained with the boy's high school team, as there were no high school swim teams for girls in the state of Illinois in the 1960's; Before her senior year, with the support of her coach and parents, she filed suit against the Illinois High School Association to allow her to compete as a member of the boys team. Although she lost the suit, this was before the passage of the Title IX Amendments to the Civil Rights Act the famous battle of the sexes. It was a sign of things to come.
After just missing making the 1972 Olympic team, she decided to retire from swimming at 18 and focus on academics at Stanford University, which, like Hinsdale, did not have a women's swimming team.
Returning home in the summer of 1973, Sandra saw an ad for a 10 mile lake swim in Lake Michigan with a prize purse of $5,000 for the winner and cash awards for second and third. She had never swum 10 miles straight before but Sandra thought this might be a good time to try. She trained only a couple of weeks and broke the race record. It was there, at the Lake Michigan swim where she first discovered that there was a professional circuit in Canada for open water swims.
In the nine marathon swims in which Sandra Bucha competed between 1973 and 1975, she finished first in the female events, undefeated in every race. Only once did she come in third to a male and every other swim she finished usually a close second to the first male swimmer. For the two La Toque 24 hour swims, she teamed up with her high school teammate and Hall of Fame Swimmer, John Kinsella, to set a record of 190 laps around the lake, winning the race for two years. She won two Lac St. Jean Races (26 miles) and two Laval Canada Swims (10 miles) and three Lake Michigan Swims (10 miles). Most of her swims were race records with only three males finishing ahead of her in her nine races. She retired in 1975 to pursue a career in law.
Her accomplishments in the water and as a social justice advocate helped pave the way for thousands of girls and women to participate in sports, the acceptance of women in the male dominated sport of marathon swimming and for marathon swimming to become an Olympic sport.