Happy Birthday Petar Stoychev!!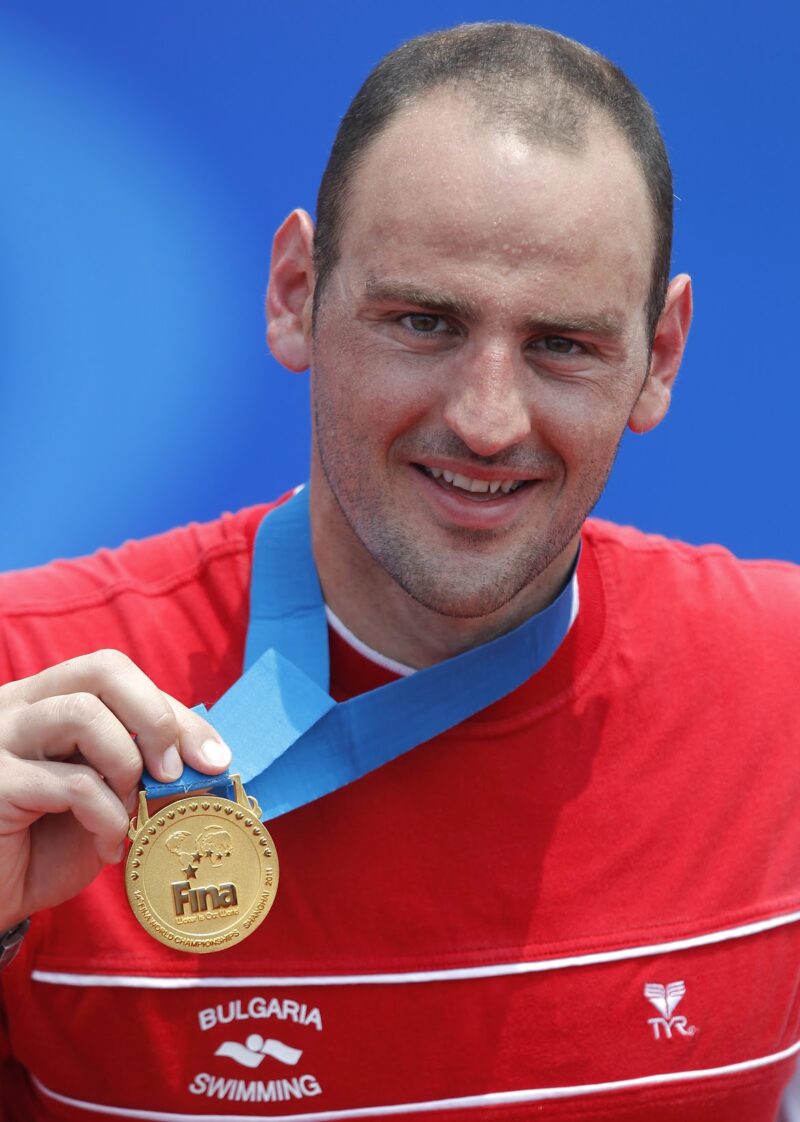 Bulgaria's Petar Stoychev displays his gold medal for the men's 25km open water race at the 14th FINA World Championships in Shanghai July 23, 2011. REUTERS/Carlos Barria (CHINA – Tags: SPORT SWIMMING) – LM2E77N0F5N01
---
Petar Stoychev (BUL)
Honor Open Water Swimmer (2019)
FOR THE RECORD: FOUR TIME OLYMPIAN, MORE THAN 100 PODIUM FINISHES IN PROFESSIONAL CAREER, WINNER FOR 11 YEARS: FINA OPEN WATER SWIMMING GRAND PRIX CIRCUIT, TRAVERSÉE INTERNATIONALE DU LAC ST-JEAN AND (34km/21 miles), OHRID (30km/19 miles) AND TRAVERSÉE INTERNATIONALE DU LAC MEMPHRÉMAGOG (32 km/20 miles); 2011 WORLD CHAMPIONSHIPS: gold (25km); 2010 WORLD CHAMPIONSHIPS: bronze (25km); 2006 WORLD CHAMPIONSHIPS: bronze (25km); 2005 WORLD CHAMPIONSHIPS: bronze (10km, 25km); 2003 WORLD CHAMPIONSHIPS: bronze (25km); 2000 WORLD CHAMPIONSHIPS: silver (10km); 2012 EUROPEAN CHAMPIONSHIP: gold (25km); 2011 EUROPEAN CHAMPIONSHIP: silver (25km); 2004 EUROPEAN CHAMPIONSHIP: bronze (25km)
Petar Stoychev is unique among all the world's open water swimmers. Stoychev's versatility in open water swimming is unprecedented. A superman in the water, he has been able to cross great channels and swim in extreme conditions with water temperatures ranging from 35 to 90 degrees. He was the first swimmer to cross the English Channel in under seven hours.
Born on October 24, 1976 in Momchilgrad, Bulgaria, Petar Stoychev started to practice swimming at the age of six in the town of Smolyan, under the guidance of his first coaches Evelina Georgieva and Ognyan Georgiev. This little boy from the Rhodope Mountains could hardly have dreamed then that he would compete in four Olympic Games and become one of the greatest open water swimmers in history.
Petar Stoychev made his first international success in 1992, when the 16-year old swimmer placed fourth in the 400m freestyle at the European Junior Championships. After that, in the same year, he made his open water debut at the annual Ohrid Swimming Marathon in Macedonia, where he placed second. This was when Stoychev realized that his strength was in longer distances and challenging conditions in the open water. At the 1995 European Open Water Championships in Austria, Stoychev managed to place sixth at the 5km swimming race and 12th in the 25km. He slowly gave up swimming in the warm and luxurious pools and started to swim in the open water marathons organized by the International Swimming Federation (FINA).
Stoychev enters the ISHOF with more than 60 international marathon victories to his credit. He won the FINA World Cup/World Series titles 11 consecutive years, from 2001-2011. He also won the Traversée Internationale du Lac Memphrémagog in Magog, Canada (34km), Lac Saint-Jean in Roberval, Canada (32km) and the Ohrid Lake, Macedonia Swimming Marathon (30km) each 11 consecutive times. In 2007, he became the first to swim the English Channel in under seven hours, with a time of 6:57.5.
In addition to his numerous achievements in marathon swimming, Petar participated in four Olympic Games; twice as a pool swimmer (2000 & 2004) before the open water event joined the Olympic program and in 2008 & 2012, where he finished 6th and 9th respectively in the 10k Olympic races which were shorter than his preferred 25k and longer distances. In Beijing, Stoychev was Bulgaria's flag bearer at the opening ceremony.
Petar Stoychev is not only considered one of the greatest marathon swimmers of all time, but in addition, he takes an active role in popularizing swimming in Bulgaria and around the world. He frequently meets with children and supports the UNICEF initiatives and the campaign against child obesity. He has also served in Bulgaria's Ministry of Sport and on the FINA Athlete's Commission.