Happy Birthday PAUL ASMUTH !!!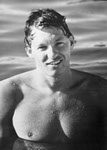 ---
PAUL ASMUTH (USA)
2010 Honor Open Water Swimmer
FOR THE RECORD: SEVEN WORLD PROFESSIONAL MARATHON SWIMMING FEDERATION TITLES: 1980-1985, 1988; MOST WINS LA TRA-VERSEE DU LAC MEMPHREMAGOG: SIX CROSSINGS; FIRST AROUND MANHATTAN ISLAND UNDER SEVEN HOURS; ATLANTIC CITY PRESS NAMES ASMUTH ATHLETE OF THE DECADE (1990); COMPETED IN 59 INTERNATIONAL MARATHON SWIMMING RACES.
Move over Abou Heif, Herman Williamsee and John Kinsella, the greatest mara-thon swimming racers the world had seen. That's until Paul Asmuth ascended on the world scene in the 1980's becoming the most dominant racer on the professional circuit and one of the world's greatest professional marathon swimmers.
Growing up in the sunshine state of Florida, he swam his way through school as an age-group swimmer with the Fort Myers Swimming Association and continuing in college at Auburn and Arizona State with career stops at Mission Viejo, Bolles Sharks and Santa Barbara Swim Club. Along the way, he had some of the world's greatest coaches: Ginny Duenkel, Gregg Troy, Eddie Reese, Ron Johnson, Mark Schubert, Larry Leibowitz and Charles "Red" Silvia. With his own mental toughness, he grew to become one of the world's greatest professional marathon swimmers.
One of the first to utilize speed techniques from the pool into open water, Asmuth became  the marathon swimmer to beat on the professional circuit during the 1980's. He won the 23 mile Around the Island Swim in Atlantic City an unprecedented eight times in water temperatures ranging from the low 60's F to the 80's F. He has a record six wins in the 27 mile Traversee Memphremagog, in Canada, holding the record from 1980 to 1994. He won the granddaddy of marathon swims, the Lac St. Jean crossing in Roberval, Quebec two times at 21 miles and once at 40 miles setting a record of 17h 6m in 50 degree water. He won the 20 mile Capri-Napoli Swim three times and holds the record at 6h 35m. He won four times and set the course record for the 50 degree F 14 mile Les Quatorze Mille de Paspe-biac Swim at 5h 35m. All totaled he has seven World Professional Marathon Swimming Federation Titles.
His solo swims include three English Channel crossings including the men's record (8h 12m), the only swimmer to complete the 31 mile Nantucket to Cape Cod Massachusetts and the first person under seven hours around 28 mile Manhattan Island.