Happy BIrthday Pam Morris!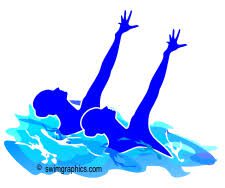 ---
PAMELA MORRIS (USA) 1965 Honor Synchronized Swimmer
FOR THE RECORD:  U.S. SYNCHRONIZED SWIMMING NATIONALS: 1965 Indoor Titles (solo, duet, team); 1965 Outdoor Titles (solo, duet, team).
In the young sport of synchronized swimming so popular in the United States and Canada, the quality and quantity of competition has improved dramatically since the sport began its national competition in 1946, adding solo in 1950.  Ruth and Gloria Geduldig of the Chicago Town Club were the first indoor and outdoor duet champions.
June Taylor and Beulah Gundling respectively won the first four indoor and outdoor solo titles, but in the entire 16 years of three way competition, only one girl, Pame Morris of the San Francisco Merionettes has been a triple winner.  Pame accomplished this difficult combination of individual and team performance twice, winning solo, duet and team titles (the synchronized swimming hat trick) in both the 1965 indoor and outdoor championships at Houston, Texas and Maumee, Ohio.  Pame's duets teamed with Patty Willard.  These two great performers were joined in the winning San Francisco Merionettes team competition by Margo McGrath, Rhea Irvine, Patsy Mical, Carol Redmond, Kathie McBride and Sharon Lawson.
In recognizing the recently retired Pame Morris as an honoree, the Swimming Hall of Fame acknowledges synchronized swimming as a mature sport in the swimming framework of aquatic sports.
**Please note: this bio was written the year the honoree was inducted, 1965.