Happy Birthday Megan Neyer !!!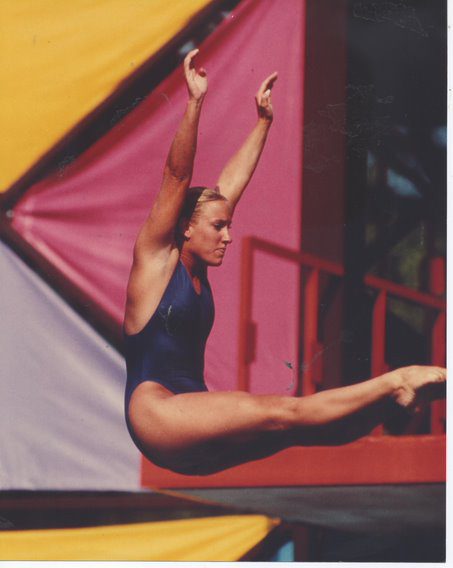 ---
MEGAN NEYER (USA)
Honor Diver
FOR THE RECORD: 1980 OLYMPIC GAMES: boycott; 1982 WORLD CHAMPIONSHIPS: gold (springboard); 1983 PAN AMERICAN GAMES: 4th (platform); USA INTERNATIONAL DIVING MEET: 1980 – bronze (3m springboard), silver (platform), 1981 – gold (3m springboard), silver (platform), 1982, 1986, 1988 – gold (1m springboard); 1981 FINA CUP: silver (3m springboard); 15 US NATIONAL CHAMPIONSHIPS: 8 indoor (1m, 3m springboard), 7 outdoor (1m, 3m springboard); EIGHT NCAA NATIONAL CHAMPIONSHIPS: (1m, 3m springboard).
As a relative unknown, this young diver burst into the international spotlight at the 1980 U.S. Olympic Trials when she placed first in both the 3m springboard and 10m platform events, knowing full well that the U.S. team would not compete in Moscow at the boycotted Games.  She used one of the world's hardest lists in women's diving with a total degree of difficulty at 22.8, matched only by USA's Chris Seufert and 1980 Olympic Champion, Irina Kalanina of the Soviet Union.  She captured the top spot in platform and springboard diving, becoming only the third person in U.S. History and the first person in two decades to accomplish the double win at a U.S. Olympic Trials, following Hall of Fame divers Pat McCormick (1952 & 1956) and Paula Jean Myers Pope (1960).
Raised in Ashland, Kentucky, Megan moved to Mission Viejo, California to continue her diving with Hall of Famer, Coach Ron O'Brien at the Nadadores. Ron helped to guide her through a decade of diving competition that saw her become the best female diver in the world.
Her success has been her consistency of success.  Over a ten year period from 1978 to 1988, she won numerous U.S. National Championships, NCAA Championships, a World championship and other major international competitions.
Unable to compete at the Moscow Olympics, Neyer traveled with the U.S. Team for a dual meet with the National Team of China.  She won silver in the springboard as well as at the FINA Cup and the FISU Games at Bucharest, Romaine.  While a freshman at the University of Florida, she won both the 1m and 3m springboard NCAA Championship, the first of four years, setting an NCAA Record of eight individual diving championships within a four year period.  This record still stands today.  Because of her enormous springboard successes, Swimming World magazine voted her the 1981 Springboard Female World Diver of the Year.
At the Guayaquil World Championships in 1982, Megan became the best in the world again, winning the gold medal in the 3m springboard.  She won the USA International as the only non-Chinese winner in the four combined women's and men's events and two points over Canada's Hall of Famer, Sylvie Bernier.  She also won both U.S. National Championships, the Australia Day International Meet and a Mission Viejo vs. Mexico dual meet.  Again Swimming World selected her as the Springboard Female World Diver of the Year, 1982.
Blonde hair, 5 foot 2, eyes of blue, Megan Neyer was the envy of everyone.  But in 1984, she failed to qualify for the 1984 U.S. Olympic Team.  She was crushed and took a rest from diving for a year and one-half.  It would be a time to heal an injured shoulder, spend time with her family after the death of her father, and to release the pressure cooker feeling around which she had put herself.
Upon returning, she immediately went right back to winning: two National Championships in 1986 and 1987.  Surgery performed on her bad shoulder kept her from making the 1988 Olympic team, but she did win another National Championship in the 1m springboard competition.
Megan Neyer will be remembered as a pillar of consistency throughout her long career.  She won a total of 15 U.S. National Championships, and while maintaining a 3.5 grade point average in psychology at the University of Florida, she became the all-time winningest collegiate diver in the history of swimming and diving, both male and female.  "I thrive on the individualized nature of diving.  I'm a performer and I know that," said Megan.  With her advanced degree in the counseling field, Dr. Megan Neyer is the Director of Performance and Wellness Counseling at the Homer Rice Center for Sports Performance at Georgia Tech in Atlanta.