HAPPY BIRTHDAY MATT BIONDI !!!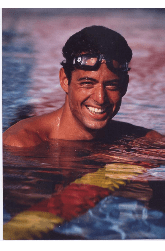 ---
MATT BIONDI (USA) 1997 Honor Swimmer
FOR THE RECORD:  1984 OLYMPIC GAMES: gold (4x100m freestyle relay); 1988 OLYMPIC GAMES: gold (50m freestyle, 100m freestyle, 4x100m freestyle relay, 4x200m freestyle relay), silver (100m butterfly), bronze (200 freestyle); 1992 OLYMPIC GAMES: gold (4x100m freestyle relay), silver (50m freestyle), 5th (100m freestyle); 1986, 1988 WORLD SWIMMER OF THE YEAR; WORLD RECORDS (12): 6 (50m freestyle, 100m freestyle), 6 (4x100m freestyle and medley relay, 4x200m freestyle relay); 1986 WORLD CHAMPIONSHIPS: gold (100m freestyle, 4x100m freestyle relay, 4x100m medley relay), silver (100m butterfly), bronze (50m freestyle, 200m freestyle, 4x200m freestyle relay); 1991 WORLD CHAMPIONSHIPS: gold (100m freestyle, 4×100 freestyle relay, 4x100m medley relay), silver (50m freestyle); US NATIONAL CHAMPIONSHIPS (17): 10 short course (50yd, 100yd, 200yd freestyle, 100yd butterfly, relays), 7 long course (50m, 100m 200m freestyle, 100m butterfly); NCAA CHAMPIONSHIPS (13): freestyle, relays; NCAA WATER POLO CHAMPIONSHIPS (3).
His dad was a former water polo and swim coach and thought his son should learn how to swim. So, this young boy began swimming at age five in a recreational program in his hometown of Moraga, California.  His first race was a 25 yard swim.  He false started twice and lost his swim suit on the dive.
But he didn't just swim when he was young. He played basketball, football and soccer.  At age ten, he played water polo, but only in the summer.  Little did he know at this young age that he would become the greatest swimmer of his time and one of the all-time greats to stand along side of Duke Kahanamoku, Johnny Weissmuller and mark Spitz. Matt Biondi was to mark his place in history.
As a high school sophomore, Matt was playing heads-up water polo.  By his junior year, he had become a pretty good sprinter, ranking fourth in the country amongst "prep" sprinters.  His high school coach, Stu Kahn, encouraged both sports. The combination over the years kept him mentally sharp for both competitions, and he calls his relatively late start in year-round competitive swimming and his great love for water polo, the combination that kept him from burning out.
Between his sophomore and senior years in high school, Matt grew three inches, put on 35 pounds and became the best high school sprinter in America.  He matriculated to the University of California-Berkeley to play water polo with Coach Pete Cutino and swim with Hall of Famer, Coach North Thornton.  His first college season, the team won the NCAA National Water Polo Championship, and he placed in the consolation finals at the NCAA Swimming Championships.  With this stat, he and Nort mapped out a plan for the summer of '84 and the US Olympic Trials, a plan that was to lead him to swimming immortality.
Biondi qualified in the last position for the 4x100m freestyle relay going to the Los Angeles Olympics in 1984.  World record holder and relay team member rowdy Gaines asked, "Matt who?", when told of the team makeup.  To everyone's delight, the team won the gold medal and set the world record, 3:19.03.
Matt Biondi swam in Olympic competition again in 1988 and 1992 – three Olympic Games.  In Seoul, he won seven medals: gold – 50m freestyle and a world record (22.14), gold – 100m freestyle and an Olympic record (48.63), gold – 800, freestyle relay and a world record (7:12.51) with Matt's swim the fastest leg ever (1:46.44), gold – 400m freestyle relay and a world record (3:16.53), gold – 400m medley relay and a world record (3:36.93), silver – 100m butterfly, bronze – 200m freestyle.  In Olympic history, he is only the second person to win seven Olympic medals at one Games and was the most decorated athlete of the Seoul Games.
In Barcelona, Matt won an additional two medals: gold – 400m freestyle relay, and silver – 50m freestyle.  He received a second gold medal for swimming in the preliminary heat of the 400m medley relay which came in first in the finals. All toll in Olympic competition, Matt won eleven Olympic medals, eight gold, two silver and one bronze, the most ever won by one athlete.  The make-up of a great champion is revealed at the time when it is necessary to perform.  Matt Biondi overcame the pressures of winning and performed to his maximum when his big chance came.  And that's why he is a Hall of Famer.
Matt competed in two World Championship competitions, 1986 Madrid and 1991 Perth.  His seven medals, won in Madrid, were the most won in the history of the World Championships: three gold, one silver and three bronze. In Perth, he won three golds and another silver.
Biondi toured Japan for the 1985 Pan Pacific Championships in Tokyo, winning five gold medals and helping set two world records and for the World University Games in Kobe, winning four gold medals.  At home in the United States, he won 17 US National Championships, ten short course and 7 long course and 13 NCAA Championships, during a three year period.  For 1986 and 1987 at Cal-Berkeley, he won the NCAA 50yd, 100yd and 200yd freestyle National Championships, the first swimmer to win all three events since Al Schwartz of Northwestern University in 1930.  He was NCAA Swimmer of the Year for 1985, 1986 and 1987.  While at Cal, Matt helped his team win three NCAA National Water Polo Championships.
But this 6 ft. 6-1/4 inch, 210 pound swimmer with a size 14 shoe and a "wing span" equal to more than his height, is a special person who, in his gregarious style, likes helping other. He has worked with Special Olympics as well as the Missing Children's Foundation.  He has been a spokesperson for Hardee Hamburgers in their support of the Make-A-Wish Foundation, a group that gives terminally ill children a final wish.  He has promoted good nutrition through the National Dairy Council and has worked with Sports Illustrated for Kids to combat illiteracy.
Matt has grown attached to dolphins and has gotten involved in swimming underwater research in the Bahamas and Key West.  He has compared the underwater movements of the dolphins with his own body and it has heightened his awareness of how the water moves across the skin.  His interest in the conservation of natural resources has increased his awareness for the safety of the dolphin.  He is a Humane Society spokesperson for the dolphin and marine life.
This fast swimmer with the fast-twitch muscle fiber has set a standard that will be difficult to match. All in all, he set twelve world records.  He was the first man under 49 seconds for the 100m freestyle, and in 1988, he had all the top ten performance times for that event.  He has been the UPI Sportsman of the Year, USOC Sportsman of the Year and Sullivan Award finalist.  Coach Thornton says, "Matt has all the right tools.  He has the same feel for the water that a pianist has for the keys or an artist's brush has for canvas."  The same goes for his life.