Happy Birthday Masako Kaneko !!!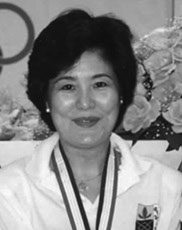 ---
Masako Kaneko 2015 Honor Synchronized Swimming Coach
FOR THE RECORD: 1984 OLYMPIC GAMES: Synchro Team Leader; 1988, 1992 OLYMPIC GAMES: Synchro Head Coach; 1996, 2000, 2004 OLYMPIC GAMES: Synchro Team Leader; 1978, 1986, 1991 WORLD CHAMPIONSHIPS: Synchro Head Coach; 1994, 1998, 2003, 2005, 2007 WORLD CHAMPIONSHIPS: Synchro Team Leader; 1979, 1985, 1987, 1989, 1991, 1993 WORLD CUP: Synchro Head Coach; 1995, 1997, 1999, 2002, 2006 WORLD CUP: Synchro Team Leader; 1980, 1982, 1985, 1991, 1993 PAN PACIFIC GAMES: Synchro Head Coach; COACH OF SWIMMERS WINNING: OLYMPIC GAMES – 2 silver, 6 bronze, WORLD CHAMPIONSHIPS – 1 gold, 8 silver, 14 bronze, WORLD CUP – 9 silver, 16 bronze, PAN PACIFIC GAMES: 2 gold, 3 silver, 13 bronze.
Masako Kaneko was born in Tokyo, Japan on April 17, 1944 and has contributed as both a swimmer and coach since the beginning of synchronized swimming in Japan.
Masako began her synchronized swimming career with the Tokyo Synchro Club in 1959. After graduating from Tokyo Kasei Gakuin University in 1967, she stopped swimming for the club and became its coach. By 1982 Masako was the National Team Coach and Director. From that time to the present, she has coached or been the team leader of almost every competition in which Japan has competed, including the Olympic Games and the World Championships.
Masako's first overseas trip was to Santa Clara, California in 1972, as the Japanese National Coach. In 1979 she was selected as the Japanese Synchronized Performance Director. She was the team leader for the 1984 Olympic Games, in Los Angeles, and again in 1988, Seoul and Barcelona, in 1992. She was head coach in Atlanta in 1996, and at the 2000 and 2004 Olympic Games she served on the delegation of the Japanese Olympic Committee. She was team leader again for the 2008 Beijing and 2012 London Olympics.
As a coach, she has developed her swimmers from beginner to Olympic levels and is the only person to have coached swimmers to medals in every Olympic Games from 1984 (Synchronized Swimming's first Olympics) to 2004 and has had medal winners in every World Championships from 1978 to 2007 (with the exception of 1982). Her swimmers include Hall of Famer Mikako Kotani, Junko Hasumi (solo bronze-1978 World Championship), Yuki Ishii (solo bronze-1979 World Cup), Miyako Tanaka and Megumi Itho (duet bronze-1988 Olympics, Tanaka/Kotani), Fumiko Okuno and Aki Takayama (duet bronze-1992 Olympics), Fujii, Fujiki, Jinbo, Kawabe, Kawase, Nakajima, Tachibana, Takeda, Tanaka (team bronze-1996 Olympics),Jinbo, Egami, Fujii, Isoda, Tachibana, Takeda, Yoneda, Yoneda, Tatsumi (team silver-2000 Olympics), Fujimaru, Suzuki, Kitao, Tachibana, Takeda, Tatsumi, Harada, Yoneda (silver team-2004 Olympics).
In 1996, Masako became the first female Director of the Japan Swimming Federation and is held in very high esteem. 
For her contributions to the sport, she has earned many awards including the Women's Sports Order from the International Olympic Committee, the Ministry of Education's Sports Achievement Award, Citizen's Cultural Award and the Avon Award.
Although she retired as the Synchronized Swimming Chairperson in 2009, she continues to teach at the Tokyo Synchronized Swimming Club where she is a club director and serves as a supervisor for the Japanese Swimming
Federation. She is also a visiting professor at the Women's College of Home Economics.