Happy Birthday Mary T. Meagher!!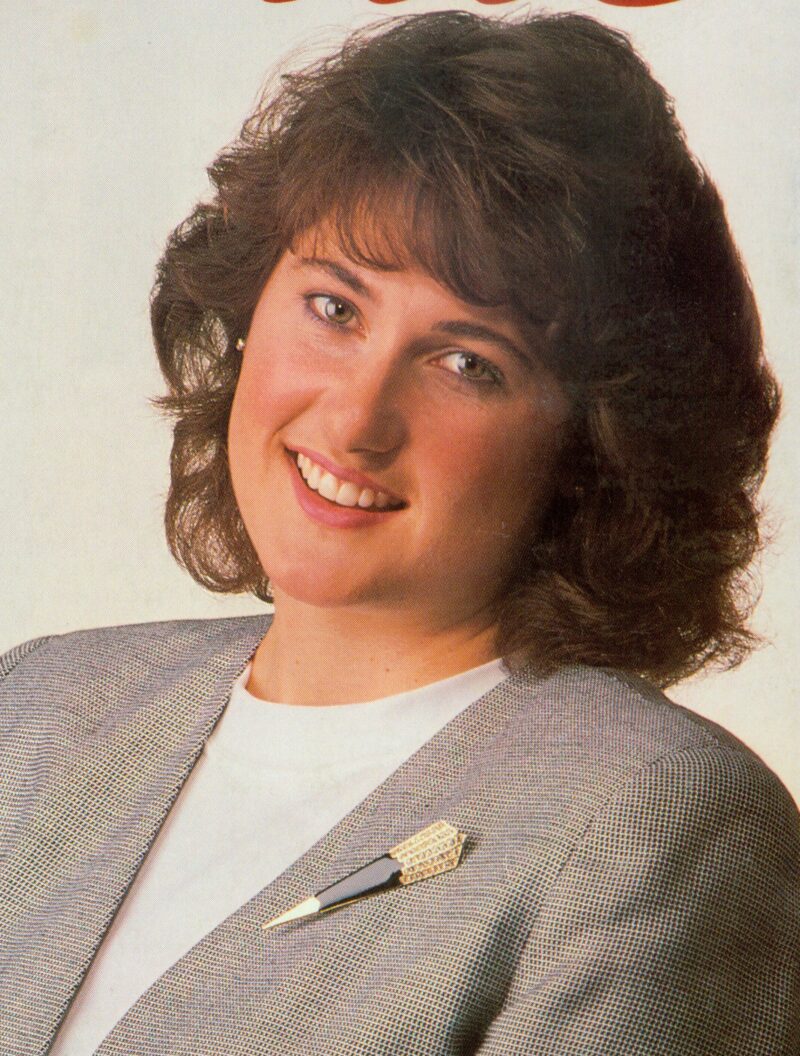 ---
Mary T. Meagher (USA)
Honor Swimmer (1993)
FOR THE RECORD: 7 WORLD RECORDS: 100m butterfly (2), 200m butterfly (5); OLYMPIC GAMES: 1980 (boycott), 1984 gold (100m butterfly, 200m butterfly, 400m medley relay), 1988 bronze (200m butterfly); WORLD CHAMPIONSHIPS: 1982 gold (100m butterfly), silver (200m butterfly, 400m medley relay), 1986 gold (200m butterfly), silver (400m freestyle relay, 400m medley relay), bronze (100m butterfly); PAN AMERICAN GAMES: 1979 gold (200m butterfly), 1983 gold (200m butterfly).
Known affectionately as "Madame Butterfly," Mary T. Meagher has held the women's world record for the 100 and 200 meter butterfly for over a decade. Meagher's records, set in 1981, are steadily approaching the longest-standing world record of all time by Hall of Famer Willy den Ouden of Holland. Her 100m freestyle record remained untouched from July of 1933 to February of 1956– 23 years. Hall of Famer Dawn Fraser had the honor of breaking the famous mark at the Olympic Games in Melbourne.
A member of the 1980, 1984, and 1988 Olympic teams, Mary T. captured gold medals in the 100m butterfly, the 200m butterfly, and the 400m medley relay at the Games in Los Angeles. Her 100 and 200 fly times were both Olympic records.
In 1981, Meagher established world records in the 200 fly (2:05.96) and the 100 fly (57.93) at the U.S. Long Course National Championships in Brown Deer, Wisconsin. Her 200 fly time is rated as the fifth-greatest single event performance by Sports Illustrated magazine. Mary T. holds the top 11 times in history in the 200 fly and is the only woman to swim under 2:07.
Born to parents Jim and Floy of Louisville, Kentucky, Mary T. is the tenth of eleven children in a close-knit family and is known as Mary T. to distinguish her from the eldest Mary in the family, Mary Glen. The initial stands for her mother's maiden name, Terstegge.
It all began for Mary, when as a 14-year-old girl who wore railroad track braces and traveled with a stuffed green frog named "Bubbles," she set her first world record at the 1979 Pan American Games.
Coached by Dennis Pursely at Lakeside Aquatic Club in Louisville, Mary T.'s success continued as she qualified for the 1980 Olympic Games and then went on to swim to unparalleled world records in 1981.
Mary T. enrolled at the University of California at Berkeley in the fall of 1982 and met up with another all-star butterflyer, Hall of Famer and Berkeley head coach Karen Moe Thornton. During her collegiate career, Mary T. won NCAA Championship each year of her four years with the Golden Bears.
After her wins at the Olympic Games in 1984, Mary T. had planned to retire, but her desire to break her own world record and the fact that she still held 17 of the fastest 200 fly times in the world was enough to convince her to give it another try. More importantly to Mary, however, as a loyal and dedicated athlete, she would feel badly about staying home.
In a sport where tenths and even hundredths of a second separate first through last place, timing is everything. At the 1988 Games in Seoul, Mary finished third in the 200 fly final won by Kathleen Nord of the German Democratic Republic. It is worth mentioning that Mary T. swam faster at the U.S. Trials (2:09.13) than Nord's winning time at Seoul (2:09.51).
Besides her butterfly prowess, Mary T. is known for her genuine personality and cheerful smile. She was a self-motivator whose desire to succeed, not only for herself but her team, led her to many gold medal performances.